Vice President Mike Pence Solicits Prayers, Quotes Bible Verse at CPAC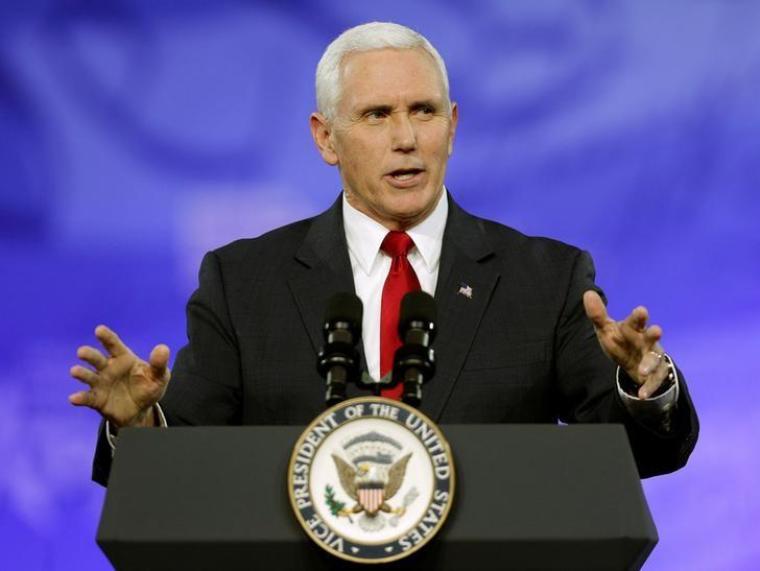 NATIONAL HARBOR, Md. — Vice President Mike Pence solicited prayers from the crowd at the annual Conservative Political Action Conference Thursday night, telling them that he and President Donald Trump need their help, energy and support to help "make America great Again."
The former governor of Indiana concluded his 20-minute address at the Gaylord National Resort and Convention Center by asking for prayers and reciting a Bible verse that he has often quoted on the campaign trail and also put his left hand on when he took his oath of office in January.
"Last month, I took my oath of office administered by the great Justice Clarence Thomas," Pence explained.
"I put my left hand on the Bible that was actually used by the 40th president of the United States [Ronald Reagan]," Pence continued. "What was uncanny about that moment was that I opened that Bible to the verse that he had it opened to. It happened to be the very same verse that I have often quoted as I campaigned across this country."
As previously reported, Pence placed his left hand on 2 Chronicles 7:14.
"If his people, who are called by his name, will humble themselves and pray ... [God will] hear them from heaven and he'll heal this land," Pence said, paraphrasing the Scripture.
"One nation, under God, indivisible, with liberty and justice for all," he added.
In his speech, Pence reminded the conservative crowd of the conservative agenda items the Trump administration plans to accomplish.
He promised that Obamacare would be repealed and replaced with a better alternative, that the administration will stand with Israel, that no state would be forced to implement Common Core education standards, to restore the American military, and to make permanent a ban against federal funds being used for abortions.
"From this day forward, to make America great again, President Trump and I need every ounce of your energy and enthusiasm, you courage, your passion. And we need one more thing," Pence stated. "We need your prayers."
Additionally, Pence implied in his speech that Trump, a billionaire real estate mogul with little political experience, gave him the authority to assemble his cabinet.
"When President Trump asked me to chair the transition, he looked at me and said, 'Mike, just get me the best,'" Pence said.
Pence then listed a number of Trump's cabinet appointments, each of which was met with roaring applause.
"How bout that Attorney General Jeff Sessions? How about General Jim Mattis over at the Pentagon? How about Ben Carson at the Department of Housing and Urban Development?" Pence asked. "I can go on and name every single one of them and I am proud to say to you folks that this is the A-team."
"President Trump has assembled the most conservative cabinet in my lifetime," Pence asserted.