Victor Cruz Sandy Hook Fan Jack Pinto to Be Buried in Jersey
Newtown, Conn., School Shooting Victim Honored by Giants Wideout in Sunday's Game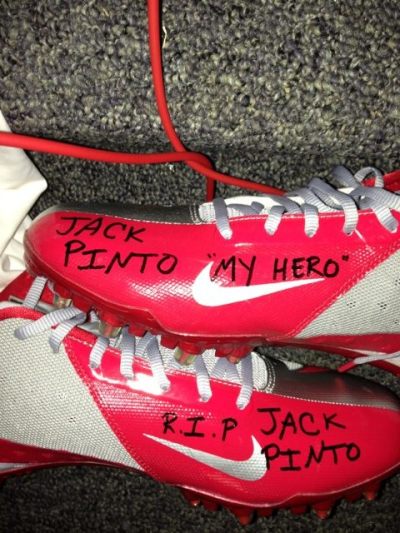 Victor Cruz, New York Giants wide receiver, decided to take action after learning that one of his fans was slain at Sandy Hook Elementary School in the Newtown, Conn., massacre that resulted in the death of 20 children last Friday.
Cruz, 26, was one of six-year-old Jack Pinto's favorite football players. After Pinto was killed in the shooting that left six adults and 20 children at Sandy Hook Elementary School dead, the wideout decided to dedicate Sunday's game to his young fan.
According to ABC News, Pinto will be buried in Cruz's jersey, while the wideout wore Pinto's name on his cleats and gloves during Sunday's 34-0 loss to the Atlanta Falcons.
"My sincerest condolences to the entire Pinto family. My prayers are with you during this extremely difficult time," Cruz tweeted before his game Sunday. "Today's game is for you Jack."
On his cleats, Cruz wrote "Jack Pinto my hero. R.I.P Jack Pinto. This one is for you!"
After his loss to the Falcons Sunday night, Cruz told reporters that he was fighting back emotions concerning his young fan.
"It was emotional. I was fighting back tears to do it," Cruz told reporters. "It felt good to honor a family that was going through so much and perhaps to think that messages go out to these athletes - and some athletes just brush them off - so it felt good to be one of the athletes that listened to that family and did something to pay tribute to them. It felt special."
Cruz heard about his young fan on Twitter and spoke about calling Pinto's family on Saturday.
"(I told them) to stay strong and understand that God has a plan, and things are unfortunate and things don't always go as planned - to just stay strong," Cruz told reporters, according to NFL.com. "They seem like a strong family. I also spoke to the (11-year-old) older brother, and he was distraught as well. I just told him to stay strong, and I'm going to do whatever I can to honor him."