Video Shows Virgin Mary's Lips on Painting Moving During Prayer at Sydney Church; Catholics Believe They Are Witnessing 'Miracle'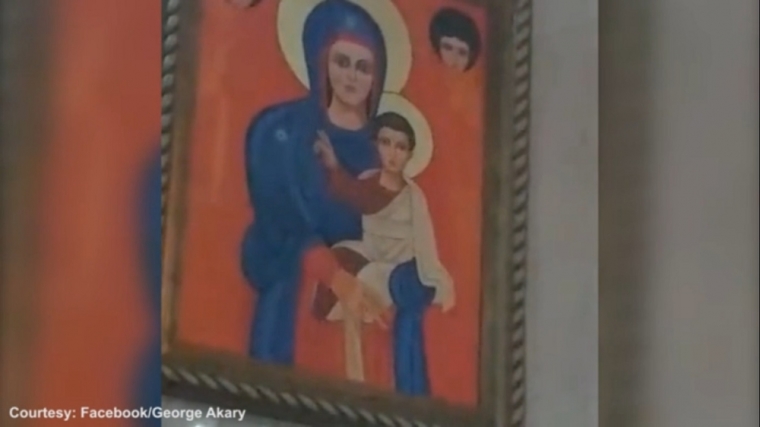 Roman Catholic parishioners at a church in Sydney claim to be witnessing a miracle concerning a painting of the Virgin Mary, with a video that has gone viral online showing her moving her lips during prayer time.
Members of the congregation at Saint Charbel's Maronite Catholic Church in Punchbowl in Sydney have uploaded a number of videos of the alleged miracle, Yahoo7 News reported, which are now being shared around social media.
One such video uploaded by church-goer George Akary from Sunday shows the old Middle Eastern Catholic painting of the Virgin Mary, who is holding the baby Jesus, moving her lips as prayers are read at the church.
Akary claimed on Facebook that the video is not a trick, as he has seen the lips moving during prayer on several occasions and under different lighting.
"To clarify for the viewers ... I saw this during mass and at the end of mass the rosary is prayed. I went to the altar and wanted to confirm via recording it ... lights are not relevant and there flickering, etc. as I have seen this occur under various lighting and have considered those possibilities. It is what it is. ... I also did notice whilst the people were praying the lips sped up or slowed down to the prayer been said," he wrote.
Akary added that the supposed miracle also occurs with other images at the church during rosary prayer, and invited people to come to the church and witness the occurrences for themselves.
Another Catholic who uploaded footage of the painting was Kirsten Keirouz, who told Daily Mail Australia she first witnessed the Virgin Mary moving her lips when two of her friends nudged her during church service and told her to "look at the painting."
"Once I looked up, I had no idea what they wanted me to look at and I saw her [the Virgin Mary] mouth moving. I then asked my friend: 'Is it her mouth?' She replied 'yes.' and then I got the shivers throughout my whole body. I couldn't believe my eyes, I kept blinking in case I was seeing things," Keirouz said.
Not all are convinced by the video, however, and Saint Charbel's Father Superior Joseph Sleiman said that he believes parishioners are seeing an optical illusion rather than a miracle.
"I do not consider this to be a miracle, but I still encourage personal reflection and spirituality," Sleiman said.