Viral Kid President Robby Novak Talks Diplomacy With President Obama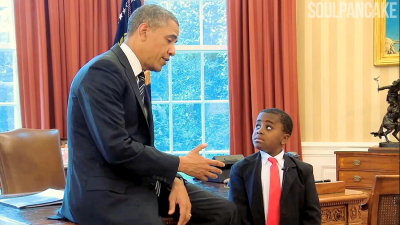 Call him the president of nice.
Perhaps the first president in America's history to talk diplomatic relations between adults and children with a child representative, President Barack Obama did just that this week when he hosted Internet sensation Kid President Robby Novak at the White House this week.
His advice, be nice, and the kid agrees.
While his game may have fallen flat on the White House basketball court where he hosted a swarm of children and NBA players on the same day he met with Novak, Obama seemed at ease like the quintessential diplomat as he hosted the 9-year-old from Tennessee.
In a video of their meeting posted on YouTube, President Obama gives Kid President an official handshake, ushers him into the Oval Office and encourages him to have a seat around his desk.
As he eases himself into the chair, the first thing the 9-year-old does is slide his hands across the desk, picks up the telephone and whispers "hellooo."
"Is anybody on there?" asks Obama.
"Nope," replies Novak.
"Ok. Let's make sure not to cause an international incident," Obama cautions in jest.
The two presidents then talked about how well they thought each other was doing at handling their respective jobs during a tour of the different artifacts in the office and then they sat down to answer Kid President's big question which he rolls out from a piece of paper he had kept safely in his pocket.
"How can kids and grown-ups work together to change the world?" he asks the older president.
"The most important thing we can all do is to treat each other with kindness and respect," Obama tells him.
"So kids, they can learn right away in school or on the playground, to be nice to each other and if you see a kid being picked on you make sure you stand up for him. And you treat everybody fairly no matter what they look like or where they're from," notes Obama.
"… If you start learning to do that as kids and everybody is respectful to each other and nice to each other, then when they grow up they'll be doing the same thing and we'll have a lot fewer problems, don't you think?" he asks.
"Yeah," agreed the Kid President who called President Obama "awesome." They parted in peace with a hug.
Kid President attracted Internet fame from a heart-warming series of videos produced by SoulPancake. His most popular video "Pep Talk", has already racked up nearly 18 million views on YouTube and counting.
"The world needs you to stop being boring," he tells people in the video. He then suggests that people should travel the road in life that "leads to awesome."
"Don't stop believing … unless your dream is stupid," he says. In his campaign for niceness he once noted that if politicians were nicer, they could put an end to partisan squabbling.