Viral Photo Shows Muslims Protecting Church in Egypt as Congregants Attend Mass Amid Threat of Attack
A viral photo showing Muslim men standing in front of a Catholic church in Egypt, protecting its congregants while they attend mass, serves as juxtaposition to recent reports indicating the growing attacks on Christians by Muslims in the North African country.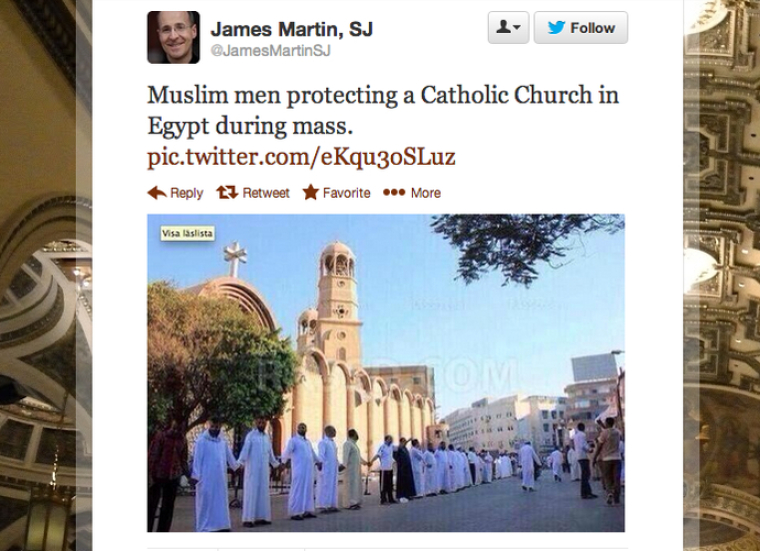 The photo, which has been circulated around the internet, shows over 20 Islamic men, wearing traditional Islamic dress, holding hands in a line in front of a large Catholic cathedral. The men are reportedly protecting the Catholic Church from vandalism and attacks while Christian congregants attend mass inside.
The picture has gained a wide amount of media attention after it was tweeted by the Rev. James Martin, S.J., a Jesuit priest and the author and editor-at-large of America, a national Catholic magazine. Martin, who has 30,000 followers, tweeted the image, and it was then retweeted by his followers more than 600 times and made a "favorite" nearly 300 times.
"Hope for return of compassion and dignity," one Twitter user commented on the photo, while another commented "our world needs more of this."
Despite the image, many Twitter users remained skeptical of the situation in Egypt, arguing that Muslim Brotherhood supporters have been reported to have attacked dozens of other churches in recent weeks. "The peaceful actions of some do not cancel the violent actions of others," one user tweeted.
Tensions between Christians and Muslim Brotherhood supporters have run high and grown violent following the ousting of Egypt's President Mohamed Morsi earlier in July. Some Islamist militants have blamed the minority Christian population for supporting the ousting of Morsi, and have called on Morsi's supporters to gain revenge and attack their Christian counterparts.
This scapegoating has resulted in attacks on Christian churches, as well as Christian neighborhoods and congregants. Although the interim government has been set up in lieu of Morsi's ousting, the government's security forces have failed to maintain peace in the country that continues to grow more unstable.
According to multiple sources from organizations working in the region, since last Wednesday, nearly 60 churches across Egypt have been targeted by Islamist radicals, as well as Christian schools, homes, businesses, and an orphanage. Christian businesses in the city of Minya were reportedly marked with an "X" ahead of the attacks to single out the business as Christian.
Additionally, The Christian Post reported on Sunday that Islamists in the city of Bani Suef torched a Christian school and paraded three nuns working at the school through the streets like "prisoners of war." The recent attacks in the country have resulted in the death of at least two Christians, including a 10-year-old girl walking home from bible school.
Disturbing photos distributed by photographer David Degner show the aftermath of vandalized churches in Upper Egypt, including a decapitated Virgin Mary statue, and altars incinerated by Molotov cocktails thrown by angry mobs.
Islamist militants have been blaming Christians for the ousting of Morsi, and the country's security forces have been criticized for not bringing justice to attackers in multiple attacks on Copts. However, more recently the country's military have been using brute force against Morsi loyalists, who have been protesting in major cities such as Cairo, urging for the reinstatement of Morsi as president. Last week, security forces used bulldozers to clear out protest camps, reportedly killing over 100 people. Additionally, on Monday it was reported that at least 25 Egyptian soldiers were killed in northern Sinai by rocket-propelled grenades, allegedly launched by pro-Morsi protesters.