Vivek Ramaswamy tells Tucker Carlson why Jan. 6 happened, says US is 'spiritually broken'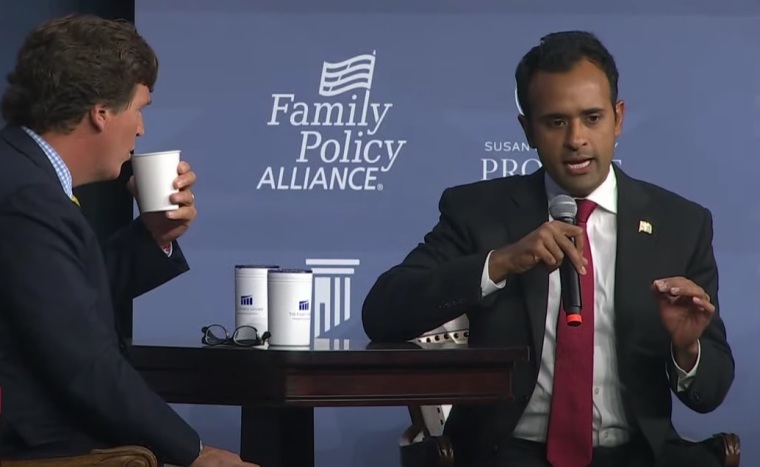 Republican presidential hopeful Vivek Ramaswamy blamed "cycles of censorship" on social media for the violent protests at Capitol Hill on Jan. 6, 2021, when some Trump supporters sought to stop the certification of the 2020 presidential election.
Speaking with former Fox News commentator Tucker Carlson at the Family Leadership Summit in Des Moines, Iowa, on Friday, Ramaswamy was asked his opinion on the Jan. 6 Capitol riot.
Ramaswamy said it was "pervasive censorship in this country in the lead-up to Jan. 6" that was at the root of the riots, warning that if "you tell people in this country they cannot speak, that is when they scream. You tell people they cannot scream, that is when they tear things down," he continued. "And so, the reality is, we were told that you could not question where the virus came from when we all knew it came from a lab in Wuhan, which they now admit."
"We were told that you could not send a private message to someone on the eve of an election that Hunter Biden's laptop story was actually a true story worth considering before an election. It was systematically suppressed."
Ramaswamy noted that people were told "you had to be locked down, you had to take a vaccine that was mandated, forced down your throats," then added that people were locked in their homes "while ANTIFA and BLM roam and burn the streets of this country."
The lead-up to the Jan. 6 protest, Ramaswamy added, was "one full year of telling people, 'You have to shut up, sit down, and do as you're told.' And then you tell them, 'OK, there's an election where you didn't get the information that you needed.'"
"That's what caused Jan. 6, is a cycle of censorship in this country," he added. "And until we look ourselves in the mirror and admit truth on that, we will not move forward as a country."
Ramaswamy told Carlson that he was concerned that, unless the censorship problem was tackled, the Jan. 6 riot would be a "friendly parlay compared to what's to come."
Ramaswamy then talked about a recent incident in which the career website Linkedin, which is owned by Microsoft, locked him out of his account over posts he made about the Bidens' relationship with China and climate change that the website claimed contained "misinformation."
Ramaswamy said that this was an example of "that culture of censorship in our country," and encouraged people to speak their minds, seeing such robust expression as a sign of a healthy democracy.
Ramaswamy, a Hindu, also spoke with concern about the lack of religious belief in the United States, describing the majority Christian nation as being "spiritually broken" and "starved for purpose and meaning."
The successful businessman believes that "we've lost the things that used to ground us," listing such things as "faith, patriotism, hard work, family," adding that too many people are "lost in the wilderness."
Ramaswamy said that while he felt a "secular religion" has occupied "that void" left from disbelief in God, this non-religious worldview "hasn't really satisfied our moral hunger."
"That effect is fading, and I think people are hungry to turn back to the real thing. The conversation is coming up," Ramaswamy said. "It is 'one nation, under God.' Yes, it is a nation that is stronger when we ground ourselves in the unit of the family."
Ramaswamy's remarks were part of the Family Leadership Summit, which was sponsored in part by Blaze Media and featured several Republican presidential hopefuls speaking with Carlson.
Earlier that day, Carlson spoke with former Arkansas governor and presidential candidate Asa Hutchinson, who defended a controversial decision to veto a bill banning body-disfiguring cosmetic sex-change surgeries for youth suffering from gender dysphoria. The bill was later passed by a veto override.
Hutchinson argued that, while he opposed such surgeries, he felt the legislation went "too far" and "was unconstitutional," believing that it actually interfered with parental rights.
"I want the government to stay out. I want the parents and communities and our faith to guide us through these difficult decisions," he stressed.