Vladimir Putin Triumphs in Russian Elections; Russell Moore Calls It 'Bad News' for Evangelicals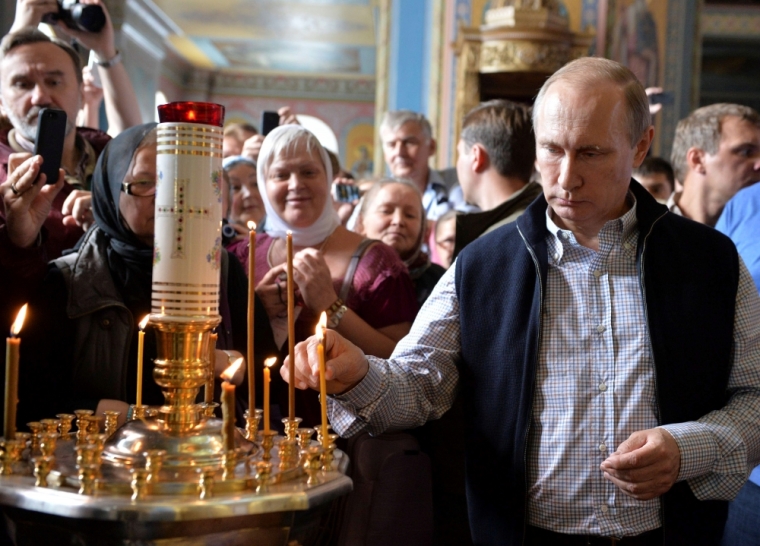 Russian President Vladimir Putin secured a landslide election victory on Sunday, keeping him in power for six more years, until 2024.
Some Christian voices, such as Russell Moore, president of the Ethics & Religious Liberty Commission of the Southern Baptist Convention, have warned that the victory is "bad news" for evangelicals, however.
Sky News reported that Putin secured over 76.66 percent of the vote, which he was widely expected to win.
"It's very important to maintain this unity," Putin told a crowd near Moscow's Red Square.
"We will think about the future of our great Motherland," he added.
Putin continued: "I see this as a sign of trust and hope, the hope of our people that we will work as hard, with the same responsibility and effectiveness as before. Thank you for being such a powerful, millions-strong team. We will definitely succeed."
Still, he shot down speculation that he would seek to run for president again after he completes his forth term, responding to a question: "It's ridiculous. Do you think I will sit here until I turn 100?"
CNN noted that Putin never faced a serious challenger for his seat, with Communist Party candidate Pavel Grudinin coming in second place, winning only 11.79 percent of the vote.
Moore, who has two adopted Russian-born sons in his family and has spoken out against Russian policies limiting adoption options, responded on Twitter on Sunday:
"The #FakeRussianElections 'victory' of the Putin regime is more bad news for Russian orphans, Russian evangelical Christians, Russian people who want to live free of KGB-style authoritarianism."
As Sky pointed out, critics have suggested that election violations have taken place, such as ballot-box stuffing and forced voting.
Some, such as CIA whistleblower Edward Snowden, shared a video on Twitter allegedly showing ballot stuffing in Moscow, urging Russians to "demand justice; demand laws and courts that matter."
Others, such as Adam Schiff, Democratic member of the House Intelligence Committee and U.S. Representative for California's 28th congressional district, added in a separate tweet:
"It's easy to get 73 percent of the vote when you bar your 'opponents' from running. After extolling life tenure for China's Xi, will our President now congratulate Putin on his successful elimination of democratic opposition?"
At press time, President Donald Trump had not responded to Putin's victory. On Sunday and Monday, he condemned, in a series of tweets, the investigation into Russian meddling in the 2016 U.S. election, including alleged collusion with the Trump campaign, by special counsel Robert Mueller. 
Schiff was also referring to the fact that Putin's biggest political opponent, Alexei Navalny, was barred from the race.
Evangelicals have meanwhile been speaking out against a law that Putin signed in 2016 that prohibits people from sharing their faith in any place that is not a government-sanctioned house of worship.
The Russian administration has argued that the law is part of anti-terror efforts, but evangelical leaders have warned that it will bar believers from evangelizing and spreading the Gospel.
"This new situation resembles the Soviet Union in 1929. At that time confession of faith was permitted only in church," Hannu Haukka, president of Great Commission Media Ministries, said in an interview with The Christian Post in July 2016.
"Practically speaking, we are back in the same situation. These anti-terrorist laws are some of the most restrictive laws in post-Soviet history."
In April 2017, Russia's Supreme Court also banned Jehovah's Witnesses, calling it an "extremist" organization in a move that stripped the group of all property.
Helsinki Commission Chairman Sen. Roger Wicker condemned Putin's government at the time.
"Russia's failure to respect religious freedom is yet another inexcusable violation of Moscow's OSCE commitments. People who practice their faith peacefully should never be in danger of being harassed, fined, or jailed," Wicker said back then.
"The court order to seize organization property owned by Jehovah's Witnesses adds insult to injury. I am hopeful that this case will be appealed to the European Court of Human Rights."