Wade Michael Page and 9/11 Tattoo; Sikh Temple Gunman Identified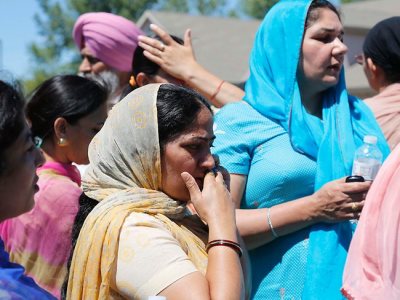 Wade Michael Page, a former member of the U.S. Military, has been identified as the gunman who killed six people and critically injured three others at a Sikh temple in Wisconsin on Sunday morning before police shot him dead.
Police are currently investigating what exactly prompted Page to open fire at the temple, which is located in Oak Creek, south of Milwaukeee, shortly before religious services begun. However new reports suggest that the deadly attack is being treated as act of domestic terrorism.
Page, who has been described as being a tall, bald, Caucasian male in his 40s, reportedly had a 9/11 tattoo. The bizarre tattoo is believed to be in honor of the September 11, 2001 terrorist attacks which occurred in New York City killing almost 3,000 people.
"He had tattoos, I don't know what the exact markings were, or if they represented any of his beliefs or what they stood for," Thomas Ahern, a spokesman for the U.S. Bureau of Alcohol, Tobacco, Firearms and Explosives, told Reuters.
Four people were shot dead inside the temple and three more, including the gunman himself, were killed outside in the parking lot.
The gunman allegedly ambushed one police officer, who was responding to a 911 call and helping a shooting victim, Oak Creek Police Chief John Edwards confirmed. A second police officer fatally shot the gunman.
Authorities allege that the gunman used a 9 mm semi-automatic handgun during the attack, which was later recovered at the scene.
Witnesses described the horrific scene where church goers were allegedly forced to hide inside closets and prayer rooms after Page began shooting.
"My brother in law was inside there ... I heard he got shot from the back. This is a big tragedy for our church. Our church, we always felt this was a safe place," one woman told the Milwaukee Journal Sentinel.
Gunman, 6 Others Dead in Sikh Temple Attack