Wade Michael Page, Sikh Temple Shooter Suspect, Broke Up With Girlfriend Before Rampage?
The man suspected of killing six people at a Sikh temple in Milwaukee, Wis., before he was shot dead by police has been identified as a U.S. Army veteran. Various possible motives have been offered for the rampage, including a recent break-up with his girlfriend.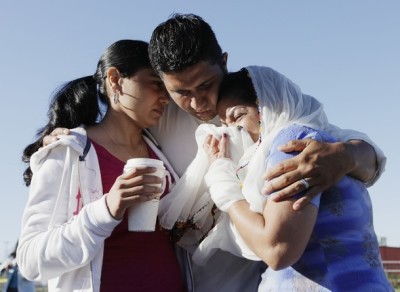 Wade Michael Page, a 40-year-old ex-Army soldier had once served at the Fort Bragg Army installation in North Carolina, although authorities have not yet revealed further details on the man, other than that he was heavily tattooed, FOX News reported.
The shootings occurred on Sunday morning at the the Sikh Temple of Wisconsin in Oak Creek when a religious service was interrupted by the gunman, who allegedly opened fire with an automatic-weapon, killing four people inside, and two others outside. Another three were injured before police arrived at the scene and shot down the man.
Initial reports suggested there could have been multiple shooters, which prompted police, federal agents and the county sheriff's bomb squad to launch a full sweep of the neighborhood. Warrants were served at the home of the shooter, and residents in the nearby blocks were asked to remain indoors or leave the area as armored trucks and other police vehicles patrolled the neighborhood.
A witness who was not identified shared that Page had lived in an apartment with his girlfriend before a recent break-up which left him "banging on the door of his old apartment, demanding to be let in." The woman, who said she was his neighbor, also revealed that he had a 9/11 tattoo on his arm.
"I had him checked out and he definitely checked out," said local resident Kurt Weins, who apparently rented out an upstairs apartment of a duplex to the suspected killer. "The cops told me they don't want me to say nothing right now."
The incident has shocked the Sikh community, which has an estimated 500,000 people living in the U.S., and 27 million worldwide. Religious services are typically held on Sundays, where worshippers gather to pray and sing at a temple before joining in a meal open to the entire community.
The Sikh community has reportedly experienced a rise in bias and hate crimes since the Sept. 11, 2001 terrorist attacks with more than 700 incidents of violence. The long beards and turbans that Sikhs often wear has them sometimes mistaken for Muslims.
"Our hearts go out to the victims and their families, as we all struggle to comprehend the evil that begets this terrible violence," said Wisconsin Gov. Scott Walker. "At the same time, we are filled with gratitude for our first responders, who show bravery and selflessness as they put aside their own safety to protect our neighbors and friends."
County Alderman Dan Jakupczyk added that worshippers at the temple are "good citizens" and there had never been any trouble during his three years as alderman.
"Sikhism is such a peaceful religion. We have suffered for generations, in India and even here," said Ven Boba Ri, a temple committee member.
Gunman, 6 Others Dead in Sikh Temple Attack