Washington Post Concerned About Authenticity of Bobby Jindal's Heritage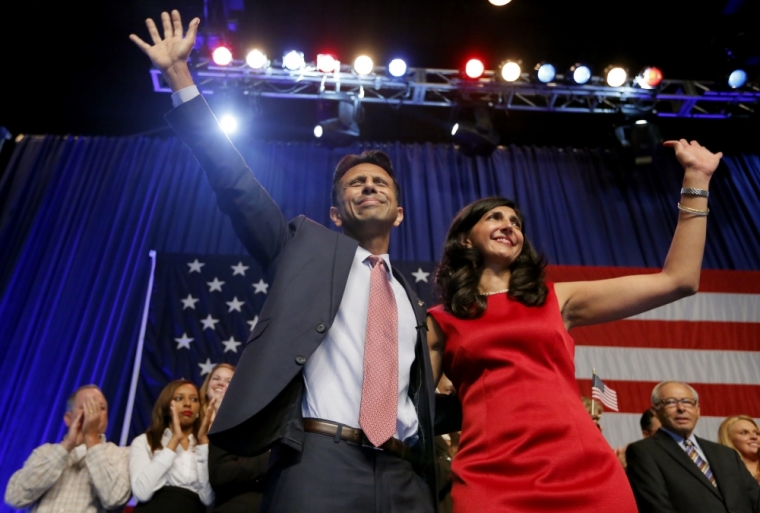 On the same day that Bobby Jindal announced he's running for president, The Washington Post published an article implicitly questioning why the Louisiana governor indentifies more as an American than an Indian American.
Jindal's parents were born and raised in India before immigrating to the United States.
"Yet many see him as a man who has spent a lifetime distancing himself from his Indian roots," Annie Gowen and Tyler Bridges reported from Khanpur, India.
The article was reminiscent of Mark Halperin's interview of presidential candidate Ted Cruz in May. Halperin, of Bloomberg Politics, asked Cruz a series of questions seeking to determine whether Cruz was authentically Cuban, such as his favorite Cuban food and favorite Cuban music. He also asked Cruz to speak in Spanish.
Halperin was widely criticized by both liberals and conservatives. The liberal website Think Progress gave Halperin "The Prize For The Most Racist Interview Of A 2016 Candidate." Halperin apologized.
Jindal has an impressive resume. He was a Rhodes scholar, became president of the University of Louisiana system when he was only 28-years-old, served in Congress and chaired the Republican Governors Association.
While there's little mention of those credentials, the Post's article declares that "Jindal's status as a conservative of color helped propel his meteoric rise in the Republican Party. ..."
The article also reveals that Jindal grew up eating Louisiana food, converted from Hinduism to Christianity, wears cowboy boots, enjoys hunting, and considers himself American, rather than Indian American.
"There's not much Indian left in Bobby Jindal," a University of Louisiana political scientist is quoted saying.
The liberal press has generated many storylines that present the Republican Party as appealing to mostly old, white males. When Republicans fail to live up to those expectations, it struggles with how to report the story.
The June cover of The New Yorker magazine had a cartoon of seven of the Republican current or potential presidential candidates. It showed them in a locker room getting dressed. Democratic presidential candidate Hillary Clinton is looking in through a window.
The message of the cartoon was clear: the Republican Party is the "old boys club" and Clinton is the outsider. The cover did not include Jindal, the Republican black candidate, Dr. Ben Carson, or the Republican female candidate, Carly Fiorina, because those candidates did not fit the storyline the magazine wanted to tell.
In an article for The Federalist, Ben Domenech noted a liberal double-standard: if Bruce Jenner is praised by the Left for identifying as a woman even when he is not, why does the Left think it strange for Jindal to identify as an American when he is actually an American?
"We live in an era where we are supposed to hail the heroism of men who identify as women, and where serious people defend Rachel Dolezal identifying as black. Perhaps Bobby Jindal is problematic because identifying as things is good, unless what you identify as is an American," he wrote.