Washington Post Slams Obama on Pope Guest List; Says White House Is More Afraid of Offending Dictators Than Pope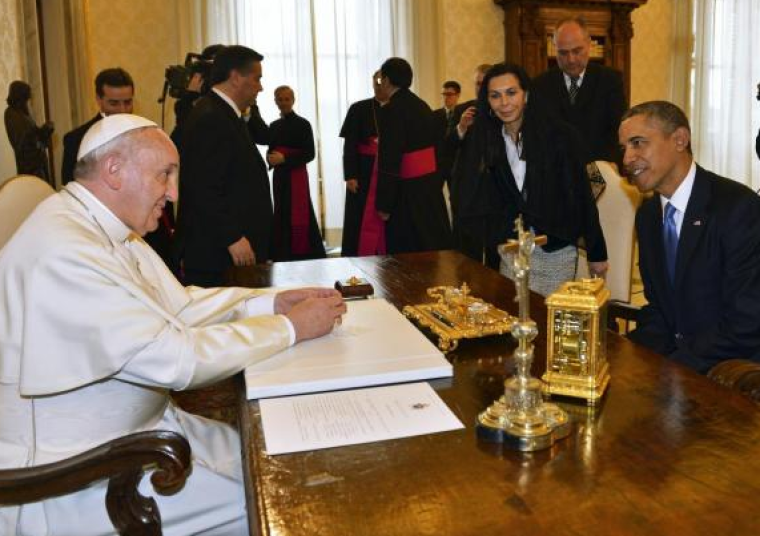 The Washington Post editorial board has criticized President Obama for inviting transgender activists, an openly gay bishop and supporters of abortion to an event to welcome Pope Francis on Wednesday, saying the White House is more considerate of dictators and oppressors, such as the Chinese president, who is arriving in the U.S. next week, than the pope.
The editorial board says they are struck by "the contrast between the administration's apparent decision to risk a bit of rudeness in the case of the pope and its overwhelming deference to foreign dictators when similar issues arise."
Those invited to the event at the White House's South Lawn to welcome the pope on his first full day in the U.S. on Wednesday include Sister Simone Campbell, executive director of Network, a "Catholic social justice lobby" which allegedly supports abortion and euthanasia; Bishop Gene Robinson, former Episcopal bishop of New Hampshire who is the first openly gay Episcopal bishop in the country; Mateo Williamson, a former co-head of the transgender caucus of Dignity USA; and also activists from the LGBT group GLAAD.
However, when Chinese President Xi Jinping comes to the White House next week, shortly after the pope leaves, "it's a safe bet that he won't have to risk being photographed with anyone of whom he disapproves," the editorial board states. "Chen Guangcheng, the courageous blind lawyer, for example, lives nearby in exile, but he probably won't be at the state dinner. Neither will Falun Gong activists, democracy advocates or anyone else who might, well, give offense."
The board adds: "Pope Francis, whatever you think of the Catholic Church's policies on abortion and gay marriage, has been during his short tenure a powerful voice for more tolerance and inclusion, while Mr. Xi is responsible for ever-growing repression. Maybe that should count for something, too, as the guest lists are drawn up."
The Vatican has also taken offense, according to The Wall Street Journal.
The presence of some figures is especially irritating, a senior Vatican official, who was not named, was quoted as saying. The Holy See worries that any photos of the pope with such guests could be interpreted as an endorsement of their activities. The official also wondered if the White House has invited any representatives of the U.S. anti-abortion movement.
Speaking to reporters, White House press secretary Josh Earnest said last week he didn't know who all had been invited. He added, however, that no one should draw any conclusions on specific guests "because there will be 15,000 other people there too."
Evangelist Franklin Graham called the guest list for Pope Francis' welcome "disgraceful and obviously inappropriate," in a Facebook post, and asked, "Is there no end to the lengths the president will go to in order to push his sinful agenda?"