'We Are in Spiritual Warfare,' Evangelical Leader Says on Country's Most Divisive Issues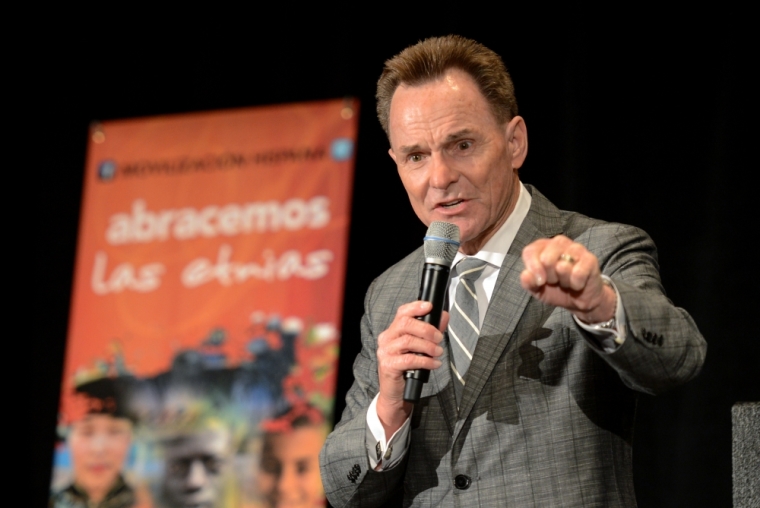 COLUMBUS, Ohio — In a blistering message aimed at Southern Baptists, evangelicals, Americans, the Supreme Court, and the world – Southern Baptist Convention president Ronnie Floyd pointed to some of the nation's most divisive issues Tuesday morning in his convention sermon.
In tackling same-sex marriage, racism, abortion, and the freedom of religion, the Arkansas pastor warned there is an "alarm clock going off in our nation and around the world" and now is not the time to push the "snooze button."
"Southern Baptists, now is the time to lead," he said. "We need to believe and stand on His Word and for His name unashamedly and boldly, but always compassionately."
Floyd delivered his sermon at the beginning of the two-day annual meeting of the Southern Baptist Convention, a 15.5 million-member denomination of over 46,000 autonomous churches in the United States.
Citing a worldwide crisis with the advance of ISIS, human trafficking, the imprisonment of Christian pastor Saeed Abedini in an Iranian jail, orphans, the $18 trillion debt in America, 43 million Americans living in poverty, racism, abortion, and other moral issues -- Floyd repeated "now is the time to lead, believing and standing."
On abortion, Floyd said since 1973 there have been 57 million babies aborted – a number equal to the populations of the state of California and New York.
"I believe if the 59 Presidents who have preceded me could speak to us in this hour on June 16, 2015, in Columbus, Ohio, they would declare to us that we are living right now in our most defining hour as Southern Baptists," Floyd said.
Quoting Romans 13:11, Floyd said: "We are not entering into a playground, but a battleground. We are in spiritual warfare."
On leadership, Floyd repeated a message exhorting Southern Baptists "to stand on His Word and for His name unashamedly and boldly, but always compassionately.
"We need to hold the Word of God in one hand and the love of God in the other hand. When we do this, the Lord will produce open doors, even when or if the opposition is fierce," Floyd said.
With those leadership principles are four imperatives, Floyd told Southern Baptists:
--"We stand believing that the Bible is God's infallible, inerrant, authoritative and final Word in all things."
--"We stand believing that Jesus Christ is the only way to salvation; only coming through repentance from sin and faith in Christ alone."
--"We stand believing that we are called to reach the world for Christ, making disciples of all the nations."
--"We stand believing that our greatest need in America is to see the next Great Spiritual Awakening."
Recalling a comment by President Barack Obama last year in New York City that the "world is spinning so fast and nobody is able to control it," Floyd said there is hope, but it won't come from outside the church.
"We need a Jesus revolution. It is time for Southern Baptists to lead by coming together in clear agreement, visible union, and in extraordinary prayer for the next Great Awakening and to reach the World for Christ," Floyd said.
Addressing the country's moral issues, Floyd said, "our churches must rise up right where the people are, from the abortion issue to the same-sex issue, and many others, extending God's love, ministering to them, and sharing the power of God's healing and forgiveness."
He listed four imperatives addressed at America:
--"We stand believing that humanity's bearing of God's image is not contingent upon one's skin color."
--"We stand believing that abortion is a glaring desecration of the unborn child's purpose and value."
--"We stand believing that marriage is the uniting of one man and one woman in covenant commitment for a lifetime."
--"We stand believing that freedom of religion for all people promotes the common good of our nation and the world."
In declaring "the Supreme Court is not the final authority nor is the culture itself; but [that] the Bible is God's Final Authority about marriage and on this we stand!" Floyd also warned he will not officiate any same-sex unions or same sex marriage ceremonies.
"Freedom of religion belongs to our God-given human conscience; not to the Supreme Court, the Congress, any President, or the leaders of the world, business, any radical group, or anyone else that tries to restrain it," he said.
Ultimately, however, Floyd pointed to the church at Philadephia who remained faithful and did not deny Jesus' name. "God was opening the door for them so they could take the gospel to their world from Philadelphia," he said.
"Even though the culture is darkening and religious liberty is eroding in our nation, God is opening up doors for each one of our churches," Floyd said.
Calling for prayer for a third great spiritual awakening in America, Floyd said prayer can "penetrate the growing lostness in North America and across the globe."
"A mighty move of God can wake up the fearful preacher, the dead church, the lifeless state convention, and even the complex Southern Baptist Convention," he said. "A move of God can even turn America's heart back to God."
This article was originally posted here.