'We Had No Idea;' Burglars Apologize, Return Loot After Learning They Robbed Charity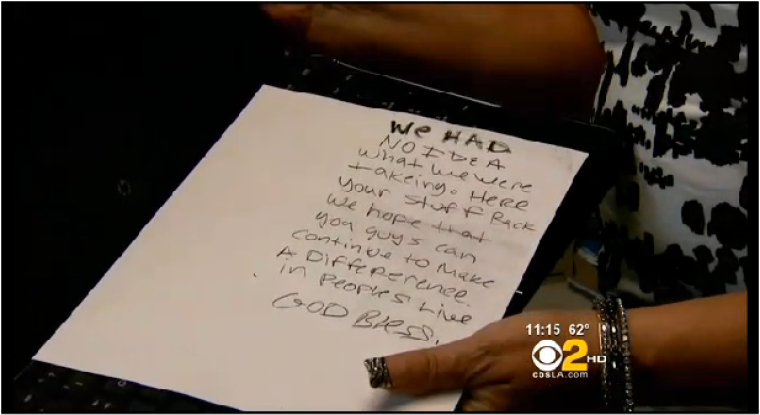 In a gesture police in San Bernardino, Calif., say they have never witnessed before, a group of remorseful burglars who plundered an area nonprofit of their computers and other valuables returned the loot with an apology when they learned it was dedicated to helping victims of sexual violence.
"We had no idea what we were takeing (sic). Here your stuff back. We hope that you guys can continue to make a difference in peoples (sic) lives God Bless," said the burglars in a handwritten note found tucked between the keyboard and screen of a laptop computer that was returned to the Sexual Assault Services Center of San Bernardino.
Executive director of the nonprofit Candy Stallings, said the burglars bypassed the organization's expensive security system on July 31 by clipping phone wires and alarm cables. They then entered several offices in the organization through a crawlspace and looted a number of computers.
"I was just so devastated because six computers had been taken and I mean they're just vital to this operation," Stallings noted in an ABC 7 report.
The devastation, however, did not last long. A few hours after the unfortunate discovery the robbers returned everything they stole with the remorseful apology.
Stalling suspects that a conversation between one of the police officers investigating the case and local area transients could have helped get word out on the street of what had happened and prompted the change of heart.
"He (police) was explaining what our facility does and the services we provide to the community," Stallings said. The nonprofit deliberately does not have a sign in order to protect the privacy of their clients.
"I don't know what to feel," Stallings noted to ABC. "One minute I'm devastated, and the next minute I just thought, 'Wow, this is just incredible.'"
The police who are still trying to crack the crime say a gesture like this was unprecedented.
"In many years and decades of being in law enforcement, I've never seen someone return an item out of guilt," said San Bernardino Police Lt. Paul Williams.
Stallings said she plans on framing the note because: "It's going to continue to tell each and every one of the staff here that do this work that you never know when you're going to touch somebody."
Although the San Bernardino County Sexual Assault Services got back the stolen goods, they will now have to raise $5,000 to cover the cost of the damage done to their alarm system.
They are now seeking to raise $10,000 via a "go fund me" campaign, and as of Friday afternoon had already raised more than half that amount.
Persons interested in donating or helping out can also contact candyir@aol.com or 909-855-8884.
According to a description on their go fund me page: "San Bernardino Sexual Assault Services is a non-profit organization providing free services to survivors of sexual assault and their families."
They offer crisis counseling, a 24-hour Hotline and 24-hour emergency response to those reporting their crime. The organization also provides advocates to survivors who need support throughout court proceedings and community education/prevention programs.