#WeAreN Unites World in Solidarity With Persecuted Christians in Mosul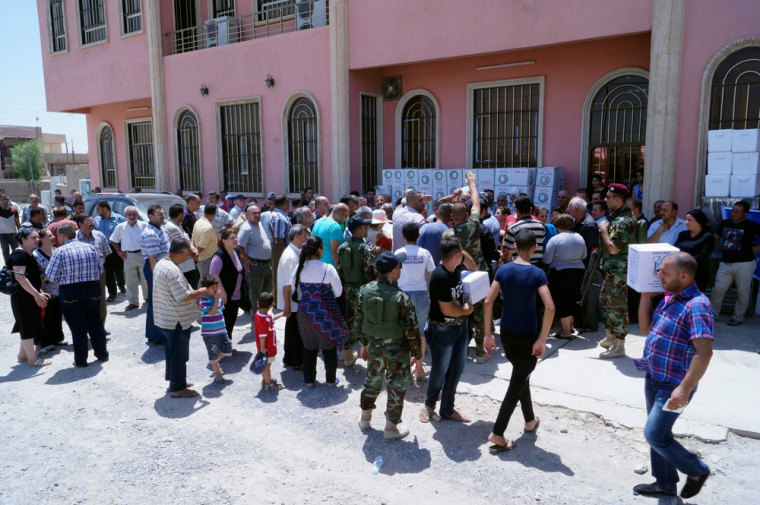 People around the world are uniting with persecuted Christians in Iraq through the Twitter hashtag "WeAreN," meant to reference the "N" painted on the doors of Christians in Iraq that make them a target for militant Islamists.
Supporters have either changed their Twitter photo to an image of the Arabic letter ن or "N", which stands for "Nazarene" or "Christian" in Arabic. Members of the jihadist militant group Islamic State of Iraq and the Levant (ISIS) have invaded towns, including Mosul, demanding Christians either convert to Islam, pay a tax, or be killed. To identify the Christians in the town, members of the ISIS have painted the "N" on their front doors.
The Church of England changed its profile to the Arabic letter for "N," writing: "We are changing our picture to stand with those showing solidarity for those Christians being persecuted in Mosul #WeAreN."
The ISIS invasion of Mosul has forced reportedly 10,000 Christians to flee to more secure areas in northern Iraq that are controlled by Kurdish forces. Mosul is the country's second largest city and has a 6,000-year-old Assyrian history. Assyrians are a semitic peoples distinct from Arabs and Jews and are Christians.
Eight Mosul priests, led by Patrick Louis Rafael Sako, released a statement thanking the Kurdish forces in Iraq who have offered shelter and safety for Christian refugees fleeing the violence. But they also implored the federal government to do more to help Christian refugees.
"We as priests are all shocked about the current situation in Mosul. People being killed or displaced just because of their religion background is most certainly a crime against humanity," the statement read, according to BasNews.
"We are expecting actions from [the Federal government of Iraq] to actually calm people down, not just releasing statements or condemning letters."
Religious leaders acround the world have denounced the recent violence and forced Christian exodus, with Pope Francis saying the Christians being persecution in the Middle Eastern country will be the subject of his "constant prayers."
"Violence isn't overcome with violence. Violence is conquered with peace," the pope said before leading a silent prayer at St. Peter's Square at the Vatican on July 20. He added, "our brothers and sisters are persecuted, they are chased away."