West Virginia Gov. Jim Justice signs bill funding pro-life pregnancy centers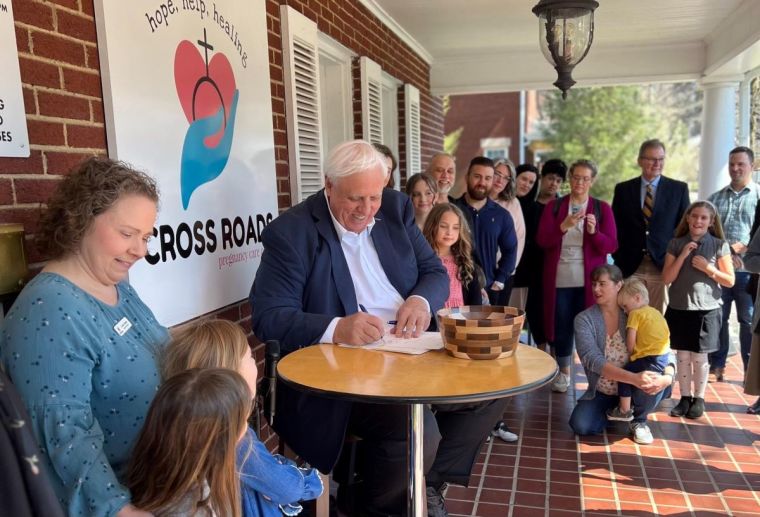 The governor of West Virginia has signed into law a measure that will provide state funding to pro-life pregnancy centers as the state's former abortion facility is taking steps to set up an abortion clinic in a neighboring state.
West Virginia's Republican Gov. Jim Justice signed House Bill 2002 into law Wednesday. In addition to providing a $5,000 tax credit for adoptions that can be used over a period of three years, the bill establishes the West Virginia Mothers and Babies Pregnancy Support Program. It tasks a management agency that contracts with the state's Bureau of Public Health with managing the program, which provides "pregnancy help organizations" with state funding.
The legislation clarifies that pregnancy help organizations do not "perform, prescribe, refer for or encourage abortion" nor do they affiliate with organizations that do so. Organizations eligible for funding under the program include "crisis pregnancy organizations," maternity homes, adoption agencies and "social services agencies that provide material support and other assistance to pregnant women."
In a statement accompanying his approval of the bill, Justice vowed that "I'll always stand for life and our innocent unborn babies." After highlighting how it will "utilize $1 million that I requested in the budget for pregnancy resource centers across West Virginia," he described the legislation as "just the beginning of protecting life in West Virginia."
Justice declared that "as long as I am your governor we will support pregnancy care centers like the one I visited today," referring to the Cross Roads Pregnancy Care Center in Charleston where he signed the bill into law.
Justice's signature of the measure follows its approval by the Republican-controlled House of Delegates in an 88-8 vote and a 31-1 vote in the Republican-controlled state Senate. In both chambers, the legislation received unanimous support from Republicans and a small number of Democrats voted for it as well.
Caitlin Connors, the southern regional director for the pro-life advocacy group Susan B. Anthony Pro-Life America, reacted to the approval of House Bill 2002 in a statement. She identified the state's passage of the legislation as an example of West Virginia advancing "a legacy of being a state that values women and the unborn."
"West Virginia's pregnancy centers empower women and impact lives for the better every day. These organizations provide free pregnancy tests, ultrasounds, medical exams, counseling, parent classes, financial classes, and resources such as food, diapers, clothing, and financial assistance for housing and utilities," she added. "The pregnancy help centers are engaging in a labor of love."
Connors contrasted West Virginia's approach with that of neighboring Maryland. She noted that Justice's approval of House Bill 2002 comes as "West Virginia's former abortion facility has chosen a very different path — setting up shop just across the border in Maryland to make a profit at the expense of human lives." Connors attributed the abortion facility's decision to move to what she described as "Maryland's extreme anti-child, anti-woman laws that allow abortion on demand at any point in pregnancy for virtually any reason."
The Women's Health Center of West Virginia, an abortion clinic, announced on its Facebook page Monday that "the Women's Health Center of Maryland will open in June just minutes from the West Virginia border." The clinic, which will be located in the western Maryland community of Cumberland, will "offer a full-range of [abortion] services including medical and procedural abortion up to 16 weeks, as well as [experimental puberty blockers that cause chemical castration]" for trans-identified youth.
The abortion provider said its existing clinic in West Virginia will remain open "to provide a wide range of sexual and reproductive health care with new services coming." As explained on the Women's Health Center of West Virginia's website, "West Virginia passed a total abortion ban on Sept. 13, 2022. We have been forced to stop providing abortion care until further notice."
The signing of House Bill 2002 into law and the corresponding establishment of a new abortion facility in nearby western Maryland illustrate a wide divergence in state laws that has emerged following the United States Supreme Court's decision in Dobbs v. Jackson Women's Health Organization determining that the U.S. Constitution does not contain a right to abortion. The Dobbs decision has enabled states to decide on the legality of abortion, with some states opting to ban the procedure and others working to classify it as a right. 
While West Virginia is one of 14 states with a total or near-total abortion ban in effect, Maryland is one of 12 states that have codified a right to abortion to the point of viability into state law. West Virginia's legislation embracing and providing funding for pro-life pregnancy centers comes as the facilities have found themselves subject to varying degrees of vandalism following the May 2 leak of the draft Dobbs decision that continued after the release of the official decision on June 24.
The targeting of pro-life pregnancy centers reflects the outrage among abortion activists. One of the phrases most frequently spray-painted on the facilities is "fake clinic," outlining the belief that the organizations misrepresent themselves to the public and provide women with inaccurate information about abortion.