When Dad Travels Too Much
"Mom Says/Dad Says," an exclusive Christian parental advice column by Gregory Slayton, former U.S. Ambassador to Bermuda and author of the best-selling book Be a Better Dad Today: Ten Tools Every Father Needs, and his wife, Marina Slayton, author of the new book Be The Best Mom You Can Be. The Slaytons have been featured on Fox and Friends, Focus on the Family Radio and numerous other media outlets. They donate 100% of their royalties from parenting books to fatherhood and family nonprofits.
Senators John McCain and Joe Lieberman, Governors Jeb Bush and Sam Brownback and Pastors Tim Keller and Luis Palau, among others, have endorsed the Slaytons. In their exclusive series for The Christian Post, both Marina and Gregory will answer thoughtful Christian parents seeking to raise their children up in the goodness of the Gospel and the Glory of God. If you would like to have Marina and Gregory answer your questions, please contact them via momsaysdadsays@christianpost.com.
Parents Question: 
My husband must travel for his job. Unfortunately he is gone a lot — and this seems to impact our children. What can we do to minimize the impact on our kids?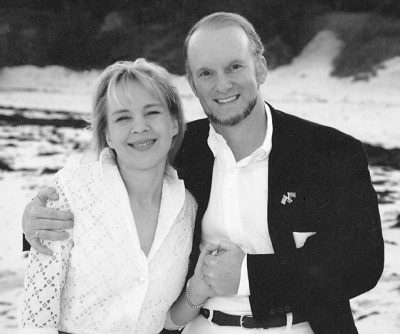 Mom Says: Travel is a fact of life for many parents today. In fact the fastest growing category of dads is what we call "long distance dads." These are fathers who are based in cities or countries other than where their families live, or who are away from home more than 50% of the year.
Clearly this is not the optimal route for a family. And it should not be something any family tries to do year after year. But extensive travel is now part of many jobs. So for many of us, it cannot be avoided, at least for a season. 
Your question is therefore an excellent one. Fortunately there are many good answers. Gregory will give you a number of detailed suggestions, but I want to focus on some overarching concepts. 
1. Before s/he leaves, be sure the travelling parent communicates very, very clearly with children (and spouse) three things:
First, how much they love and will miss each member of the family. Second, why they must travel and what they will be doing (don't leave it as a big mystery, help your family understand where you will be and what you will be doing). Thirdly, let them know when they can expect to hear from you (Gregory calls me twice a day when he is away … and on every call he talks with the kids if they are around). 
2. Keep your promise.
I understand that business meetings can run overtime and we don't always control our own schedule. But if needed, step out of the meeting for 5 or 10 minutes for a call home. And if that is absolutely impossible, be sure to let your family know in advance via email. Use technology to stay connected with your family. These days everyone has a mobile phone. Be sure to send each child at least a short text once a day, with some pictures if possible, letting them know you are thinking about them and praying for them. 
3. Plan something fun to do together when you get back. 
Maybe just take the whole family out to dinner and do a show and tell from wherever you were. Bring a globe or a map to show them where you were. And bring some fun little items home to share (coins of the countries you visited, small handicrafts, post cards of the most famous sites … and a nice gift for each family member too). 
Remember that when one member of the family travels, it is hard on the other members of the family. So be sure to make a real effort to stay connected. The longer the trip, the more important it is to stay closely connected.
Finally, be sure that extensive travelling is only for a season. Being away from home 50% of the time or more is doable for some families … but not forever. It can destroy a family if it is for many years. If you need to move, or change jobs, do it. Your family is more important than your job. Period.  
Dad Says: I'm writing my portion of this column from a plane flying to Beijing from Dubai. And I travel a great deal. So I am always looking for ways to stay in closer touch with my family.
In my book Be a Better Dad Today there is an entire chapter devoted to Long Distance Dads. So if you travel a great deal or are based away from your family, I strongly recommend you pick up a copy of the book. (We give 100% of the royalties to charity, so hopefully your doing so will be a double blessing.)
But let me give some specific ideas below (from the book) for parents who travel a lot:
1. Don't miss the most important events.
 Almost all of us who travel a lot (and I do) have some control over our travel schedule. So we need to be sure we don't miss the biggest family events (like a graduation or a long planned family vacation). Yes, at times this might be difficult. But that's when our true priorities are revealed. And no one ever comes to the end of their life thinking "Darn, I wish I spent more time at the office." 
2. Coordinate your travel schedule with your spouse. 
If you both work, try to ensure that one of you have a travel light job. Again, you must decide what's more important: your family or your job. Having Mom and Dad both travel extensively is, in our experience, extremely difficult on a family and will have detrimental effects on the marriage and the children.
3. Use technology to stay in touch. 
Be sure all of you are on the same mobile device (if you all have iPhones you can easily Face Time each other for free … as long as you have Wifi). Play Internet games together, send lots of photos, maybe even read to the kids their favorite stories each night via Skype.
4. Over communicate with your spouse and children. 
Since you're not there to hug them or look them in the eyes when you say "I love you" — you must say it more often. Some of us dads are quite stingy when it comes to "love language." But that is like underinvesting in our most important assets. Our kids (and our spouse) need to hear from us that we really do love them ... especially when we are travelling. Be sure your family knows how much you love them at all times, especially when you are on the road.
5. Be sure to spend lots of time when you get back with each family member to make up for your time away. 
Do things together with the whole family … and do something special with each family member just the two of you. It's important to re-establish and deepen the bonds that unite us after an absence. Be sure to work that into your schedule when you return from a long trip.
Hope the ideas above from both of us are helpful. Remember, our children spell love T-I-M-E. Let's give them the TIME and attention they need … even when we are on the road. Their futures … and ours … depend on it. 
Gregory