White House 'Tried to Get Me Fired' for Speaking Up, Says Barack Obama's Christian Cousin, Dr. Milton Wolf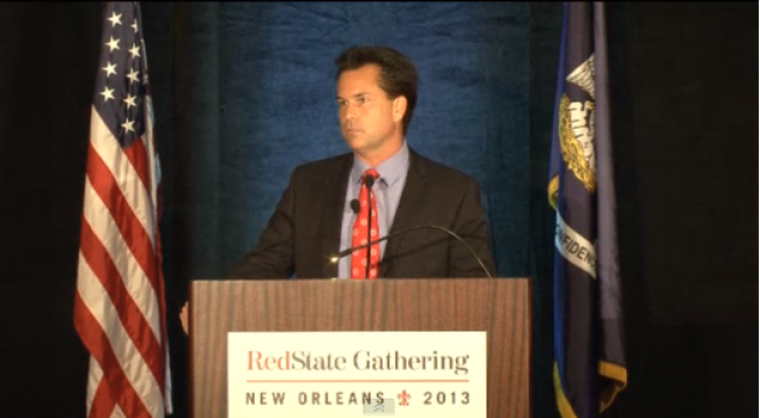 Dr. Milton Wolf, President Barack Obama's Christian cousin who thinks Obamacare is "immoral," says the White House has tried to get him fired and some members of his family have disowned him for speaking out against government policies.
The Kansas radiologist, who is a columnist for The Washington Times and has produced videos for the Daily Caller, made the revelation during an address to the conservative Red State Gathering in New Orleans, La., where he explained why Obamacare is immoral.
"We oppose Obamacare because it is immoral. ... It is immoral for a government to get in between you and your doctor, to interfere or even know about your doctor-patient relationship. It is immoral to use political calculations in life and death medical decisions. It is immoral for government to sit in judgment of who shall live and who shall die," said Wolf in his nearly half hour address.
Before he got into the Obamacare discussion, however, he took some time to talk about his family background.
"It's true, Barack Obama and I are cousins. And I would guess because of that you may wonder if I'm the real deal or not. You may have a little concern about me. Let me assure you that I am from a branch of the family that has actually read, understands and believes in the constitution," declared Wolf.
"In fact, I think I'm everything that's wrong with Barack Obama's America. I've got a wife, a job and a gun," he continued, before adding that he has several guns, not just one.
"I gotta tell you. I don't make it my business to go around the country and apologize or try to explain away Barack Obama, but there's one thing in particular I just want you to understand, that not everybody in the family thinks that you are just a bunch of 'bitter clingers,'" he said.
"I don't speak for anyone but myself but I love the Lord our God, my firearm of choice is the Ruger SR-556, and I have hatred toward no man – only toward bad government that destroys our freedom and our future," he explained.
Wolf then goes on to state that he is not a politician, but a doctor, and was there to "take a stand for my patients because I took an oath to them, and I don't think I can fulfill that oath if I allow the government to do to them what the government is trying to do."
He said he was "deeply concerned" about the country, which is "hanging by a thread," and said career politicians, both Republicans and Democrats, are unable to fix the problems. He then explained it was part of the reason why he was forced to get into public political discussions, and because of that decision he is facing heat.
"I've stood toe-to-toe with this president and I've looked him in the eye,, and I know what it means to fight and I know the price you pay when you do that," said Wolf.
"Since I've done that, my family's been pressured. In fact in some quarters even disowned. I've been harassed by the IRS, I've been audited twice," he continued.
"The White House has called my editor and tried to get me fired. I know what it means to fight. And I don't pretend to be anything more or less than I am, but I'm willing to fight for my freedom and I'm willing to fight for your freedoms," he said.