Who Killed John Martinez? Man's Wife Takes Out Billboard to Find Husband's Killer
Who Killed John Martinez? Man's Wife Takes Out Billboard to Find Husband's Killer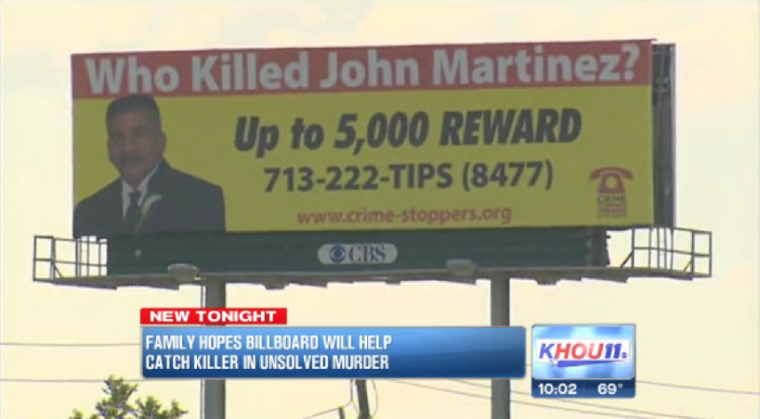 A grieving wife whose husband, John Martinez, was gunned down in the driveway of the couple's home just over a year ago has placed a billboard at the side of a busy highway hoping it might help bring detectives information that could help police solve her husband's murder.
"It's been the most difficult year of our lives," Martinez's wife, Norma, told KHOU in Houston, Texas. "He didn't deserve this, we didn't deserve this, and my children shouldn't be without a father right now."
The 45-year-old father of four was shot and robbed of his wallet, cell phone and life as he returned home to his family on the night of Oct. 13, 2012.
Investigators theorized that Martinez might have been followed home around 10 p.m. after visiting his brother the night he was killed. His wife and son were on the other side of the door when the shots were fired, according to an earlier report by KHOU.
"We opened the door," Norma recalled in that report. "He was already unconscious, and he was bleeding and I was screaming."
"They were so horrible," she added. "They shot him, not once, but three times. Once wasn't enough. He must have fought them."
A year later, Norma celebrates her husband as a hero and that's why she wants his killers brought to justice.
"I don't want them doing this to someone else," she said. "I really strongly believe that they were trying to come in the house. My husband stopped them, and I tell my children, he's our hero," she told KHOU.
Norma and her family placed the billboard along I-45 announcing a $5,000 Crime Stoppers reward for information leading to an arrest.
"I just want justice," she said. "I promised my children that I would bring justice to our family and to my husband."
"I just want people to know he left behind four beautiful children," Norma had noted days after her husband was killed. "Three girls and my son -- he was everything to me. He was my soul mate."