Why Did This Southern Baptist Pastor Stick Up for Muslims Wanting to Construct the Ground Zero Mosque?
Bart Barper, who pastors First Baptist Church in Farmersville, Texas, spoke about religious freedom and sexuality at last month's Ethics & Religious Liberty Commission's annual leadership summit that was held in Nashville, Tennesse.
Barper caught up afterwards with The Christian Post where he explained why he stuck up for the developers who wanted to build an Islamic Center near Ground Zero, and why "God bless America" makes him feel uncomfortable and why Hobby Lobby matters.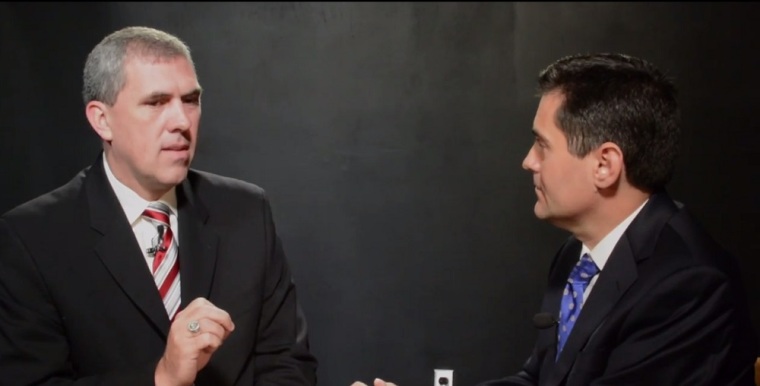 The following is an edited transcript of the interview.

CP: Can you give us a brief synopsis of the history of religious freedom in this country?
Barber: When the colonies were founded here, very few of them had religious liberty. Surprisingly, even people who had suffered religious persecution in Europe came here and established exclusive state churches. And that was the situation of Roger Williams. He came at first to Massachusetts.
Massachusetts was founded by people who had been persecuted, but there was a very exclusive state church in the Massachusetts Bay colony, and Roger Williams came to Baptist convictions and was forced out by the colony in the winter and moved to Rhode Island founded colony. He was a tireless advocate for everyone, not just for various Christian denominations but even for Muslims (who were known as Turks by then), for Native Americans, for atheists, for everyone.
That message and that influence eventually affected the development of the First Amendment. But, like I said, the other influence, the Massachusetts influence, the First Amendment only affected the federal government when it was first put into place. The federal government couldn't have an established state church. The federal government couldn't restrict the free exercise of people and religion. But most of the colonies and most of the states had established state churches and that lingered a long time afterwards. We really had to grow into an idea of religious liberty. It started with these principles articulated by preachers, then it became principles distilled into law and the First Amendment, and then finally that idea caught on in state governments and became something we were better at.
CP: Why is religious liberty still important in this country?
Barber: Many people have rightly called it the "first freedom." If you don't have liberty with regard to your conscience and your belief about what's ultimately right, what's ultimately wrong, what's ultimately real, then it's difficult to have other liberties, really, if you don't have that.
Talk about freedom of speech: how do you have freedom of speech if there are beliefs that are not free? If you speak and articulate those beliefs, you're not going to be able to do that. ... Same thing with freedom of press, how are you going to have freedom of the press if there are beliefs, ideas that are off limits. Most of the freedoms, all of the freedoms that are contained in the Bill of Rights, arise out of this idea that people's faith principles, people's core beliefs, are not the jurisdiction of the state.
CP: What do you think it's like for non-Christians to live out their faith-commitments in a predominantly Christian country?
Barber: I have thought about it before because I think one of the things that's important is for me to be on guard for other people's religious liberties as well as my own. I'll give an example. When there was controversy over building a mosque near Ground Zero, I wrote and published about how important it was for there to be that right for Muslims to be able to construct a mosque anywhere I could construct a church. That's part of what religious liberty means here.
Also, Evangelical Christianity is changing. Over the course of the past 50 years, because of changes of transportation and communication, more of us are more in touch with Christianity around the world. In a couple of weeks, I'll be in Africa. I'll go to a place where nobody knows what a Baptist is, where I'm regarded as some sort of strange, foreign, unknown cult.
I spend a lot of time there. Last year, I spent probably six weeks total in that environment, living in the village with people, and you get a taste of what it is to be not just the minority faith, in the sense that "we're 45 percent," but to be way down in the single digits. It's a different kind of experience.
Those are the cases where we, as Evangelicals, have not always lived out the idea of religious liberty the way we ought to. But I also don't think we've ignored it entirely, it's just that sometimes the implications of it are difficult for us even to see.
CP: What do you make of the government's and politicans' use of religious language?
Barber: There have been a lot of academic studies out there to show that theories of government pretty much universally rest upon theories of civil religion. I feel as uncomfortable, sometimes hearing "God bless America" as the atheist does, because I often know that it's not the God I worship that they are talking about. Gosh I'm trying to find the two minute version of this.
CP: Well, you want people to read your interview.
Barber: I know. I know. Sometimes I like talking more than I like having other people listen. ... It's not an accident that the American revolution comes after the First Great Awakening, because before the First Great Awakening most American colonists subscribed to systems of belief like Anglicanism or Catholicism, in which you had a bishop who is the divine authority from God whom you must obey.
And so also in political life you have a king who is the divine authority from God whom you must obey. These folks in mass became Methodists, Baptists, Congregationalists, a lot a lot of them became Baptists and moved into systems of religious belief where they valued congregationalism and autonomy and searching the scriptures for themselves. And then they were more open on the political front for the idea. ... "Maybe the bishop's wrong," then they were ready to entertain the thought "maybe the king's wrong too."
It's difficult to have any political system and say, but "we're not going to have any religious idea that underlies that political theory." That's very, very hard to do. That's why presidents always mention God in their State of the Union address. That's why there's so much jingoistic, "God Bless America" or whatever else — it's there because there's a God idea that undergirds the political system, but it's not Evangelical Christianity nor is it Judaism nor is it Islam, nor is it any church you would go to. It's this civil religion in and of itself.
CP: What are your thoughts on Hobby Lobby?
Barber: The Hobby Lobby case is important because you have a large number of people in this country, observant Roman Catholics and even a surprising number of Evangelicals who have varying degrees of strict conviction about contraception and certainly about abortion, and a much, much larger group of people if you consider pills like Ella or Plan B to be abortifacients. So for people to have the ability to participate in the economy but not be funding those things, is a matter of basic religious liberty. It really is.
And I really think it's a mistake to make it all rise and fall on these abortifacient pills, because there's still the fact that Roman Catholics consider plian old contraception to be wrong. I don't, but I have to respect that person's convictions.
From a Christian perspective, I think this contraceptives case and the "should I bake a cake" or "take photographs for gay marriage" cases and things like that, are really a whole like the "meat sacrificed to idols" in the New Testament.
People are going to come to different convictions about how much they participate in these things and what the New Testament says, "You got a point if you say, oh well, idols aren't really real and if meat has been sacrificed to idols the meat doesn't change and I'm going to eat that. I don't have any problem with that."
The New Testament acknowledges validity of that point, just like you might have validity to someone who says, "It's a cake and I'm not being asked to administer the rights of marriage or doing anything else, I'm baking a cake and people are going to eat it."
There might be some validity of that point to be acknowledged, but the point that the Bible makes, is if you've got someone that does have a problem with that and you force them to do it anyway, for that person who violates their conscience that's a sin. Whether the action was a sin or not in the objective sense.
There are cases where sin is subjective, and it's bad for the state to coerce people to sin. It's for that same reason why you can consciously object to military service in a combat role, because even though most of us have concluded that there are times when it's OK to pick up a weapon and go into a just war and to use lethal force, we don't want to force those who don't believe to commit something in violation of their conscience. That's a time honored principle of American religious liberty. It goes back a long way. We ought to be proud of it as a part of what it means to be distinctively American.