'Why Does Our Daddy Need to Be in Prison for Loving Jesus?' Asks Children of Pastor Saeed Abedini in Heartbreaking Plea to Obama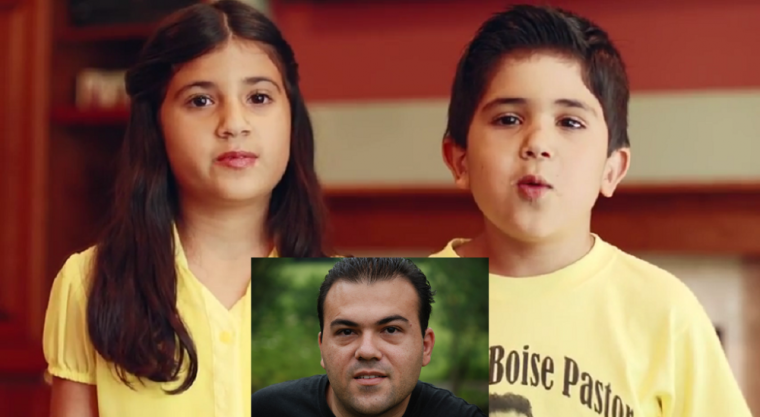 The children of Christian American-Iranian Pastor Saeed Abedini, who has been imprisoned in Iran since 2012, cannot understand why their father is in prison for "loving Jesus," and pleaded with President Barack Obama in a heartbreaking video this week to "bring my daddy home."
"Dear President Obama, please help bring my daddy home," the children plead at the beginning of the video posted on YouTube Monday.
"Why does our daddy need to be in prison for loving Jesus," asked Pastor Abedini's 7-year-old daughter Rebekkah.
Her brother, 6-year-old Jacob, said he missed his father "a lot, lot, lot, a thousand lots," and said his heart doesn't stop crying. He knows it's crying, he said, because he feels it.
With tears in her eyes as she lays in her bed, Rebekkah spoke about how much she has prayed for her father's return and still hasn't received an answer she is seeking from God.
"I pray that he comes back home but he is still not back home," she said.
U.S. Secretary of State John Kerry highlighted, according to a CP report, that the U.S. would continue to call for Pastor Abedini's release at the diplomatic level.
"In Iran, U.S. Iranian citizen Pastor Saeed Abedini remains imprisoned. The Iranian authorities sentenced him to eight years behind bars simply because of his religious beliefs. We will continue to call for his release and we will continue to work for it," said Kerry
"And make no mistake: We will continue to stand up for religious minority communities under assault and in danger around the world, from Jehovah's Witnesses to Baha'is to Ahmadi Muslims," he added.
Abedini was severely beaten while being transferred from a hospital back to Rajai Shahr prison in May, and the news caused much distress for his family.
"This is an extremely disappointing development – one that breaks my heart," his wife, Naghmeh Abedini, had said at the time. "Our family is deeply saddened and we continue to pray for Saeed – for his safety and his release. We are very grateful that so many people around the world continue to pray for Saeed."