Pope Francis Calls Himself a 'Feminist' Ahead of US Visit; Here's Why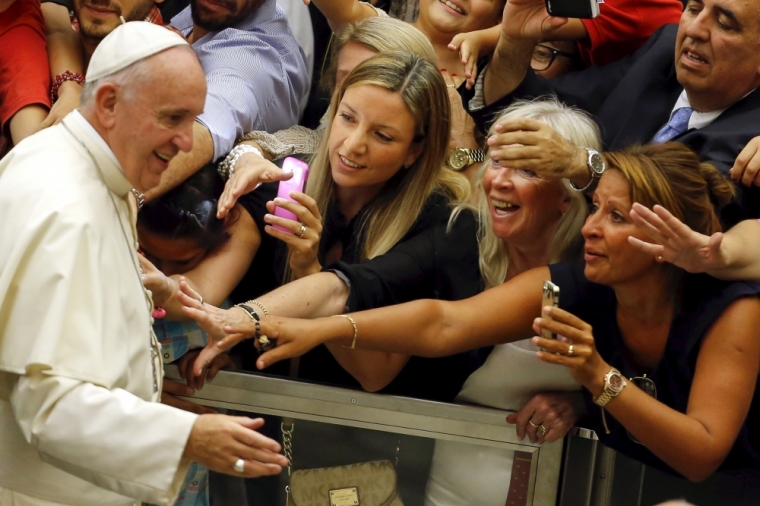 Pope Francis has admitted that he's "a bit feminist," praising the important role of women in religious life for standing on the "front lines" of the church's "motherly love" and outreach to people who need it most.
Catholic News Service reported on Thursday that Francis was speaking to an audience of young consecrated women and men from around the world, and talked about how evangelism helps 'warm other people's lives with Christ.'
"Here I would like to — forgive me if I'm a bit feminist — give thanks to the witness of consecrated women. Not all of them though, some are a bit frantic!" the Roman Catholic Church leader said to laughter and applause.
Religious women "have this desire to always go to the front lines. Why? Because you're mothers, you have the maternal instinct of the Church, which makes you be near" people in need, he said.
Francis then talked about women who've gone great distances to help others, such as three South Korean sisters who went to Buenos Aires, Argentina, to help staff a Catholic hospital, despite knowing no Spanish.
The sisters, who he didn't name, 'immediately went to the wards, helping patients, holding them, giving them a smile, and the patients kept praising how wonderful the sisters were even though they never said a word.'
The Vatican leader said: "It was the witness of a heart on fire. It is the motherhood of nuns,"
He continued: "You truly have this function in the Church, to be the icon of the Church, the icon of Mary, icon of the Church's tenderness, the Church's love, the motherhood of Church and the motherhood of Our Lady. Do not forget this. Always on the front lines, but like this."
Pope Francis has spoken out on gender issues on a number of occasions, though in April he denounced gender theory teachings that ignore or diminish the differences between men and women in society.
"Getting rid of the difference is the problem, not the solution," Francis told his general audience at the Vatican.
"For example, I wonder if so-called gender theory may not also be an expression of frustration and resignation that aims to erase sexual differentiation because it no longer knows how to come to terms with it."
The pontiff also suggested that society risks "going backward" if it takes male and female characteristics to be largely malleable social constructs.