Why Is This Michigan Church Telling People to 'Skip Church' on Easter?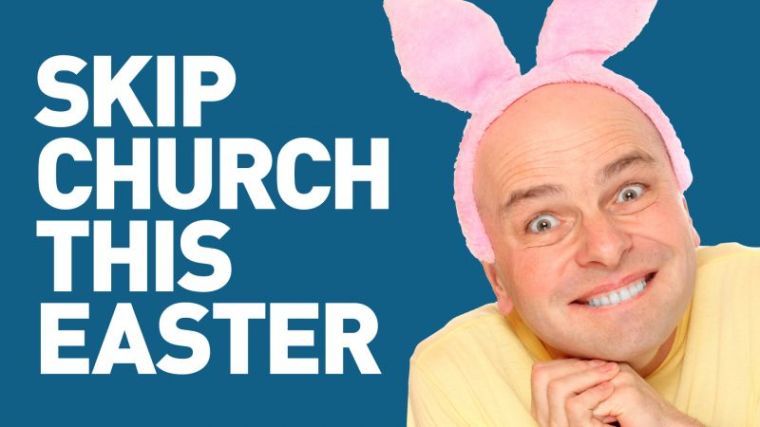 A church in Northville Township, Michigan, is raising eyebrows with a billboard in Wayne County that is telling people to "skip church this Easter," seemingly adapting a message that atheist organizations have pushed.
A URL promoted on the ad, SkipEaster.com, reveals that it's an early April Fools' Day joke, with Ward Evangelical Presbyterian Church explaining that it most definitely does want people to come to church on April 1.
"Of course, we want people to visit with us on Easter," Ward Senior Pastor Scott McKee told CBS Detroit last week.
"Just as Jesus did some unexpected things after His resurrection, we thought something unexpected was appropriate. Easter being on April 1 gave us a way to do it."
The website further explains that the image on the billboard, a grown man wearing silly-looking pink bunny ears, should hint to passersby that something is off.
"Never trust anyone with pink bunny ears on their head," is the first message that greets visitors to the website.
"Oh no! Our Easter ads were HACKED by the April Fool! That guy is always up to no good ... especially when Easter Sunday falls on April 1," it continues.
"Maybe we should change our password? Or freeze our credit? Or maybe we should just tell you what we really wanted to say ..."
The church explains that in truth, it does want people to join it in Northville this Easter.
"We have an incredible weekend planned and we can't wait to welcome you," it says.
The ministry notes that it offers infant care at its renovated nursery, and has a focus on supporting children.
"Ward Church is a place where families connect, learn and grow. Easter is a great time to check us out with lots of fun and zero pressure. We'll have amazing coffee, inspiring music, and a thought-provoking message," it advertises.
The message concludes by telling people "So don't skip church. Come to Ward this Easter and tell that April Fool to hop along."
On its main website, Ward Church states that it's "a Jesus-centered community who believes the Bible is uniquely inspired and relevant to today's world."
Secular organizations, such as American Atheists, have been urging people to "skip church" on their holiday-themed billboards throughout the years.
The group's anti-Christmas billboards in the Albuquerque and Dallas markets, displayed in December 2017 called the birth of Christ "fake news," urging people to "just skip church."
"Everyone knows that the stories we're told in church aren't the truth," David Silverman, president of American Atheists, claimed at the time.
"People ignore that fact because they enjoy the community, the friendship, and the traditions that go along with religion. But we're here to tell them that churches don't have a monopoly on any of that. There's a fantastic and vibrant community of atheists all across the country creating their own traditions and lifelong friendships," Silverman added.