Why James Dobson and American Christians Should Stop Being So Pessimistic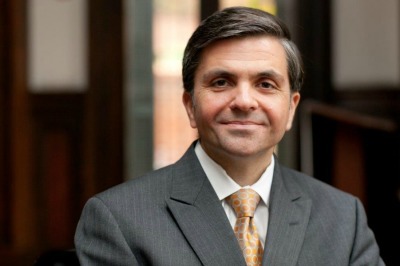 Recently longtime evangelical leader James Dobson, now venerably age 80, warned of irreversible consequences if Hillary Clinton is elected.
"… We won't ever recover from it!" Dobson said, "We will go down in flames, maybe literally, if we put the wrong person in power."
Maybe Dobson, who's justifiably concerned about growing assaults on religious liberty and conscience rights, is right. Others sound similar warnings about Trump, whose authoritarian rhetoric they fear foreshadows collapsing confidence in democracy and constitutionalism in favor of strong man rule. Maybe they're right.
There's nothing new about apocalyptic chatter in American politics. New England Federalists in the 1800 election claimed the allegedly atheist Thomas Jefferson, who was actually privately Unitarian, would as President close churches and burn Bibles, like the French revolutionaries with whom he initially sympathized. Frontier revivalists countered that John Adams was a closet monarchist serving the British crown. Neither of these scenarios unfolded.
Hyperbolic scare talk is not limited to traditional religionists. The secular prophets of environmentalism routinely warn that a few more SUVs on the highway will irretrievably push the planet into a calamitous, carbon fueled spiral landing in permanent Hades. Scare talk gets attention, mobilizes followers, and can sometimes achieve partial political gains, although rarely sustainable.
More typically, apocalyptic political warnings are not vindicated, with a few exceptions, like Churchill's warnings about Hitler and appeasement, or Demosthenes' oratory against Philip II of Macedon. The ancient Hebrew prophets are the model of such jeremiads, and their dark prophecies were fulfilled, because they of course spoke with divine authority, usually resulting in their own martyrdom. Few if any others have similar authority.
Very possibly America is on the edge of some horrendous, irrevocable collapse. Maybe we are akin to Weimar Germany, decadent, confused, divided, and preparing to surrender our ancient liberties in favor of some ominous new tyrannical order. Possibly, but I don't expect so.
From my own personal observations, America — in reality versus the hysteria and rantings of the Internet and cable television — is not hovering on collapse. My knowledge of America is hardly comprehensive. But I don't entirely live in an insulated bubble. I travel all over the country, usually by car, sometimes by train, avoiding airplanes and airports. I stay at Holiday Inn Express, eat at Cracker Barrel and downtown diners, talk to fellow train passengers and fellow hotel guests at the breakfast bar. Some of my most extensive conversations are with cab drivers but also waitresses, desk clerks, fellow tourists at historic sites, and shop keepers. Almost every day I walk four or five miles in different neighborhoods, observing people, commerce and regional habits.
Almost always I'm impressed by the good will, good manners, good humor and good spirits of the random people of all ethnicities and economic classes whom I meet. They generally work hard, seem mostly happy, and are optimistic. The country seems prosperous. Lots of sprawling suburbs full of new houses everywhere I go. Omnipresent shopping malls pulsate with shoppers. Old downtowns I visit usually have experienced some revitalization. Even in poor regions I will find restaurants full of seemingly working class diners with fairly nice cars outside. People generally seem healthy, although Americans — especially the ones at Cracker Barrel — eat too much, reflective of their wealth and comfort.
All the churches I visit everywhere seem full of respectful and devout people who to varying degrees are serious about their faith. Supposedly America is post-Christian, but I'm often struck by strangers who randomly discuss their faith. In restaurants, as an inveterate eavesdropper, I'll often overhear substantive religious conversations among families and friends.
I like to visit old downtowns. Court houses are always tidy, patriotic statues are usually well maintained, and flags are everywhere I go. I never hear racial animosity or racial resentments in my encounters. Nor do I ever hear disrespect for the country. Some of the best conversations are with DC cab drivers. Elderly DC natives, usually black men, often recall moving here from farms in the South, serving in the military, buying a DC house in the 1960s for $20,000, which is now worth $600,000 or $700,000, making them among the world's wealthiest people. They enjoy their grandchildren but still want to work. They invariably say their city is a better place than 50 years ago.
Recently I chatted with a black woman who works at a private club I frequent. She's been there since 1958 and met the Eisenhowers many times. She'll retire when she's completed 60 years. Is this city better now than when you were a girl, I asked. She recalled a happy childhood in Washington, but said the city is better now, with "more going on."
Most DC cab drivers are African immigrants or sometimes south Asian. They're always fascinating if asked about their stories. Lots are from Ethiopia, having escaped the old Marxist and murderous Mengistu regime. Often these men have survived terrible horrors. Invariably they are very happy and grateful to be in America, although working 70-80 hours weekly to support wives and children in nice suburban houses, far different from war torn villages from their past on another continent.
No place in America resembles any part of Africa politically or economically. But much is made of the white working class' marginalization in a global economy, in places like West Virginia, where I often spend time at a family home. Many of my neighbors there certainly fit into this category. Yet they survive, often on disability and odd jobs. They have their struggles. Yet they have homes, cars, modern luxuries, including giant screen TVs and wi-fi. Their trips to Walmart seem frequent. And they seem, on the whole, happy.
One of my West Virginia neighbors, sadly now in prison, lived on $700 monthly from Social Security, plus odd jobs, plus recycling beer cans. He drank and smoked and worked hard. There was a large slash across his chest from open heart surgery, an operation not long ago that billionaires and kings could not procure. From his last prison photo, my friend, now approaching 80, looks still robust.
Americans of all classes and races are the most privileged, wealthiest, most protected, pampered and coddled, freest and most fortunate people in human history. At our worst, we live better than kings of old. Our society like all cultures everywhere and at all times is plagued by every form of vice and human depravity, to which each of us sinners contributes. Yet we should thank God continuously for our undeserved blessings. He may conclusively judge our sinful country, just as He justifiably could have in 1916 or 1816. Yet He is long suffering, and His mercy is wide.
Our country, by His unmerited grace, is much, much more than either presidential candidate, neither of whom has the power to destroy us. Unless He wills otherwise, we will survive, and perhaps thrive.
Dobson and many others are rightly concerned over religious liberty. The church's marriage teaching is now despised by secular culture, just as the church's teaching on slavery, racial equality, gender equality, justice for the poor, and temperance for all, has been despised and fiercely resisted in the past. In every age the church has its battles, and we are vain to think our own times are the worst. The church, so long as it contends for God-ordained human dignity, will ultimately prevail.
We Christians in America, with our nice homes, nice families, nice cars, nice churches and countless nice creature comforts, often like to complain and predict doom. In recent years I have met increasing numbers of African Christians who have almost none of what we have and instead have survived wars, dictatorships, persecution, famines and disease. They live on the edge from day to day. Yet they rarely speak apocalyptically, complain or predict doom. They are not naive but they are usually hopeful.
A Christian witness that is ungrateful, sour, and direly fatalistic, without hope or serious confidence in God's supertending mercy, is not effective, truthful or faithful.
As the Psalmist urged: "Enter into His gates with thanksgiving, and into His courts with praise. Be thankful to Him, and bless His name."
Originally posted at juicyecumenism.com.
Prior to joining the IRD in 1994, Mark worked eight years for the Central Intelligence Agency. He is a graduate of Georgetown University and is a native of Arlington, Virginia. A lifelong United Methodist, he has been active in United Methodist renewal since 1988, when he wrote a study about denominational funding of pro-Marxist groups for his local congregation. He attends a United Methodist church in Alexandria, Virginia. Follow Mark on Twitter
@markdtooley
.