Wildfire Ravages California; Bethel Church, Victims Say 'God's Got Us'
6 people dead, others missing
The fire has claimed the lives of six people, among them a firefighter, a bulldozer operator, a 70-year-old woman and her two great-grandkids, James and Emily Roberts, ages 5 and 4. The name of the sixth deceased person has not yet been released publicly.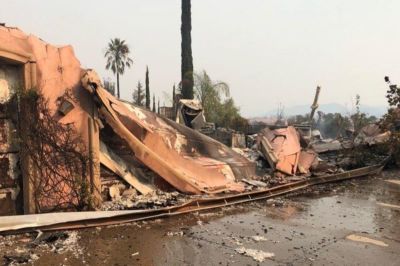 "I was only gone about 15 minutes when my wife called and said, 'You gotta get here. The fire's coming up the hill," said Ed Bledsoe, in an interview with CBS.
Bledsoe is the husband of Melody Bledsoe, who perished with her two great-grandchildren in the Carr fire. He had no idea his home was endangered and had been running an errand. The blaze moved so quickly that when Bledsoe tried to go back home he could not get there as cars were blocking the road and the flames were so large he could not return on foot.
"I would have died right there with them. They're that important to me," he said, choking back sobs as he recounted how he had spoken with his panicked wife and grandson on the phone as the fire was arriving at their back door.
He maintains he never received an evacuation warning.
Jeremy Stoke, a Redding firefighter, died Thursday while battling the blaze as was Don Smith, an 81-year-old privately hired bulldozer operator, according to local reports.
Many residents of the western Redding and surrounding communities of Shasta and Keswick had less than 30 minutes to flee their homes. At least a dozen people are currently missing.