Wille Robertson says it was 'hard' watching his parents' story in new film 'The Blind'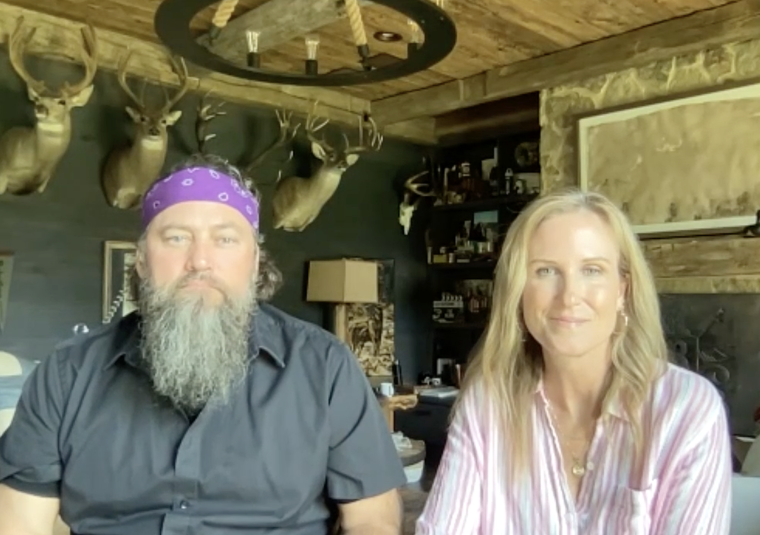 The darkest years of Phil and Kay Robertson's life will be told in the upcoming film, "The Blind," and their son Willie Robertson and his wife, Korie, have shared what it's like to see his parents' life played out on the big screen.
Premiering in theaters nationwide beginning Thursday, "The Blind" will take viewers on a raw and powerful journey into the early years of Phil and Kay Robertson's marriage. The film highlights their love story, their years of great hardship and God's redemption in Phil Roberton's life.
Despite a decade of challenging times where Willie's parents were at great odds due to his father's wild behavior, the patriarch eventually surrendered to Christ. His come-to-Jesus moment changed the course of his family's life forever.
Now, all of his children — Willie, Al, Jase, Jep and his daughter, Phyllis (from an extramarital affair) — all serve Jesus and are successful and outspoken Christians.
"It's powerful. It's real. It's, in some ways, was hard to watch for us. It's hard to go back and highlight the darkest point of your life. I'm sure from my parents, that was the tough part," Willie Robertson, 51, shared in a video interview with The Christian Post. 
"I think in Christianity, we move on, we say, 'That's in the past.' We don't even like talking about it; it's hard to go back there. I was thankful that they did, that they were able to share that story, that piece of their life with people, really just for the hopes that if someone else finds themselves in this desperate situation without God, that they could see that, and maybe that would help bring people closer to the Lord. And that's what happened in our family."
The family's journey has been seen in the public since their hit reality series "Duck Dynasty" made waves on A&E with the show, books and podcasts. What the world has seen are the benefits of Phil Robertson's surrender to Christ and the impact it has had on his life, his children and his grandchildren.
"The Blind," however, pulls back the curtain on what took place before Christ.
"It's easy to see the benefits once Phil was able to completely change his life and yield to Jesus, but also once mom forgave Phil and they restored their marriage, then they had a way better shot at life," Willie Robertson added.
"That's why we're so thankful for God, and that's why we're bold about it and talk about it because without God entering in this picture, my life would look completely different." 
The devoted son honored his mother for her long suffering and her ability to forgive. 
Korie Robertson said her children, including popular Christian influencer Sadie Robertson Huff, were shocked to learn some of the things shown in the film. 
"Whenever we first showed our kids the film, I was so nervous to show them just because I'm like, 'I hope they like it, and I hope they think it's good,' because we had been working on it so intimately for the past like two years," Korie Robertson told CP. 
"They just loved it and had such a great response. One of the things they said they were like, 'Oh, is that really true? Did that really happen to Grandma Kay? Did she really hit that low point where she felt like maybe ending it all?' I was like, 'That's true, that really happened,'" she recalled.
"It is a true story, and it is a hard story to see, but the power is in the Gospel, and the power is in the redemption. The power is in when Jesus enters your life; everything can change, and you aren't without hope." 

"The Blind," directed by Andrew Hyatt ("Paul, Apostle Of Christ," "Full Of Grace"), features actors Aron von Andrian ("Dodger"), Amelia Eve ("The Haunting of Bly Manor"), Brielle Robillard ("The Lake") and Matthew Erick White ("Station 19").