Woman, Gang-Raped By 8, Now to Receive Caning Under Indonesia Sharia Law
A Sharia court in Indonesia has ordered that a woman, accused of having an affair with a married man who was gang-raped by vigilantes last week, should be be caned.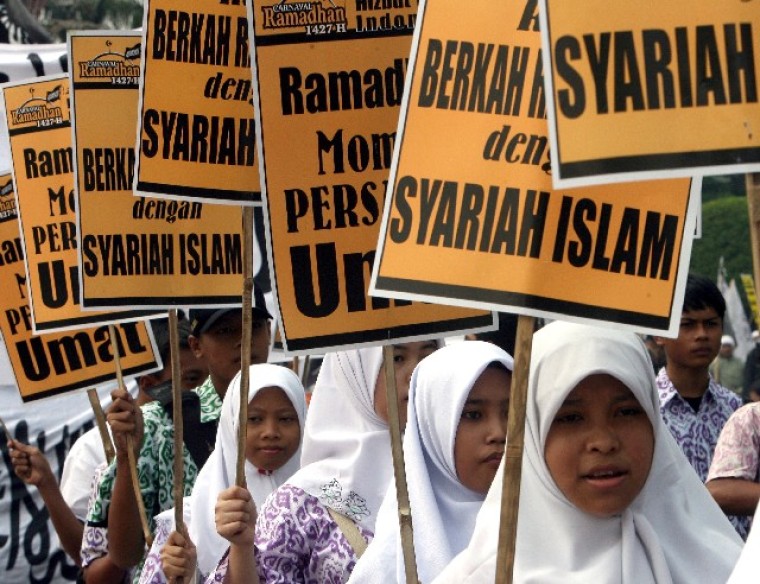 The woman, who is from Aceh, the region in Indonesia where Islam first spread, is accused of having sexual relations with a 40-year-old married man and father of five.
Last Wednesday, the woman and her alleged lover were at her house when a group of at least seven men and a 13-year-old boy stormed into the home, tying and beating up the man, before gang-raping her. After they violated her, the men doused the couple in sewage, before marching them to the Sharia authorities.
Three of the men have since been arrested for their crimes, according to The Jakarta Globe. The woman explained that she had been raped by them during an interrogation session about her relationship with her lover.
Despite the woman's rape, a Sharia court has ordered the couple be corporally punished.
"We want the couple to be caned because they violated the religious bylaw on sexual relations," Ibrahim Latif, the head of the Sharia office in the eastern town of Langsa, told The Jakarta Globe.
"They have to be [caned] as a form of justice because the rapists will also be processed, but in a criminal court. Besides, they've confessed to having sex on several previous occasions, even though the man is married and has five children," he added.
Under the partial Sharia law that was adopted by the region in 2001, the defendants will receive nine cane lashes.
Teungku Faisal Ali, who heads the Aceh chapter of Nahdlatul Ulama, Indonesia's largest Islamic organization, condoned the caning argued that "the punishment for the mob that raped the victim must be much harsher because they have set back efforts to uphold Sharia in Aceh."
Ali criticized vigilantism to the Jakarta Globe, explaining that "if anyone sees any violation of Sharia, they must report it to the Sharia police, in accordance with the prevailing standards and procedures."
Indonesia has the largest Muslim population of any country in the world, with approximately 204,847,000 adherents. In the majority of the provinces of the country, citizens have a choice between sharia and secular courts for personal status issues, though for a small number, Sharia applies automatically for personal status issues. Aceh, designated by the government as a special territory, is an outlier in Indonesia, where Sharia's jurisdiction extends to criminal matters.
According to Human Rights Watch, under the Qanun on Criminal Law, which was passed in 2009, adultery, sexual harassment, rape, and homosexual conduct are considered crimes for which individuals may be punished with lashing or death by stoning.
Throughout modern Indonesian history, the government has alternatively offered Aceh disproportionate autonomy compared to other parts of the country.