Woman Whose Google Anti-Abortion Talk Went Viral Says Christians Must Pray Before Confronting Culture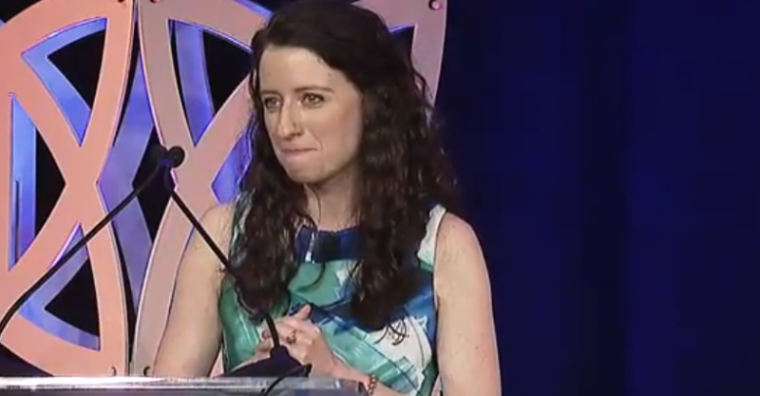 A pro-life speaker whose talk about abortion at Google's headquarters went viral, is urging Christians to think deeply and not skip deliberate prayer before confronting cultural evils. Such is the approach of Jesus, she argued.
During the Wilberforce Weekend sponsored by the Colson Center in Washington, D.C. Saturday, Stephanie Gray, who hails from Canada and is president of Love Unleashes Life, recalled that a year ago, the night before she was scheduled to speak at Google, she was panicking.
"I was riddled with anxiety and I thought the presentation that I had prayerfully prepared I should scrap," Gray said, "and come up with something new in 14 hours."
She decided to contact her sister and told her about her nerves. Her sister called it out for what it was: a spiritual attack. She also told Gray to "tell Satan to go to Hell," and then to get some sleep and give the talk she had planned to give. Her talk was called "Abortion: From Controversy to Civility," which summarily rocketed around the internet.
The experience reminded her of the passage in Ephesians 6 which speaks about the battle believers face against spiritual wickedness and demonic principalities and powers, she said.
"We are in a spiritual battle," Gray emphasized, "and if we are going to confront the culture and enter into that battle in a very serious way then there are three things that we need to do."
The first is that contemplation be prioritized over confrontation, modeling Jesus while doing so, she said, and from there ask good questions and tell good parables.
She came upon this bit of wisdom following the advice she got from one of her spiritual directors to read the book, The Soul of the Apostolate. The book explained that people in ministry tend to focus on the section of scripture in Luke 10 where Jesus says that the "harvest is plentiful but the laborers are few," but then rush to get out onto the harvest field since apparently so few workers exist and do the hard work of harvesting.
"That's not how that passage ends," she maintained.
"It ends, 'Pray, therefore, that the Lord of the harvest will send more laborers into the harvest.' It is to redirect us to praying," she said of the temptation to become so busy doing things and reduce the amount of praying and preparing.
When the laborers take the time to pray deliberately, they become like reservoirs that fill up and then the excess overflows, as opposed to mere channels where the water continually runs through, she said of the insights in The Soul of the Apostolate.
She explained that an encounter with God is necessary, and that the union with Him gives rise to stillness, which enables the readiness needed to confront the evils in society.
"If we want our confrontation to lead to transformation, then we want to ask good questions and tell good parables," Gray stressed.
She has done this in several contexts while debating the abortion issue. During one such event at a Canadian university she saw a whole row of protestors walk in carrying placards; she thought they were going to start protesting and chanting but they sat down and Gray began her talk.
In order to explain how life starts at conception she decided to tell a parable, to make the point more relatable. She invited the audience to imagine that they went to Scotland — where her father is from — and went out on a lake in a boat where they sighted the Loch Ness monster. Upon seeing the monster appear above the water's surface for a few seconds you take a picture with a Polaroid camera, she explained.
You are glad you have the photo printout because your fellow boat mates did not see the monster for the brief moments, but when you hand them the Polaroid it's only black smudges and splotches, she continued the pretend story. But a boat mate has never seen a Polaroid camera and does not know how the technology works and thinks the photo did not take properly so he tears up the photo and tosses it in the lake, destroying the only piece of evidence that you actually spotted the Loch ness monster.
Imagine that you get angry for destroying the picture and they look at you like you are crazy.
"And they say, it's just brown smudges. What do you care so much about brown smudges?"
"And I'd said, 'You'd likely reply that those brown smudges, black smudges, everything about the image of the Loch Ness monster was captured in an instant. It just needed time to develop."
At that moment the abortion rights protestors rose to their feet, held up their placards and began repeatedly chanting "My body, my choice!" for 30 minutes, postponing the debate until security arrived.
The parable was so potent they could not rebut but opted instead to attempt suppressing it, she said.
Gray also recalled that on another occasion a professor she was debating conceded that a fetus and embryo were human but that abortion was nevertheless justifiable since one person doesn't have the right to make another person do something to their body without their consent. As the law should not force you to donate a kidney to a sick child, so, too, the law should not require the uterus to be used.
Gray took notes while hearing this, praying as she listened to his argument.
"What is nature and purpose of the kidney versus the nature and purpose of the uterus?" she asked.
"Because when we answer that question we come to see why a parent is not obligated legally to give one but ought to be legally obligated to give the other."
The kidney exists in my body for my body. But the uterus is different; it exists every single month getting ready for someone else's body.
"I can live without my uterus but my offspring cannot. It's an organ unique from all the others in that it exists more for the next generation than it does for me. And that's why I am not obligated to give my kidney but I am obligated to give my uterus."
Gray noted that she was later told that the professor was up all night trying to think of a response.
During a Q&A on another occasion a lady came up to her and asked her about permissibility of abortion when a pregnancy was conceived in rape. Gray walked through several arguments with this woman but realized, through the prompting of the Holy Spirit that she was not really asking for an intellectual debate but was speaking out from a place of deep pain. The woman was a sexual assault victim.
"Contemplation before confrontation is so important so that we have the wisdom to know questions and stories ought to be directed to the head or the heart," Gray concluded.