Women Soldiers on the Front Lines Defending Christians, Religious Minorities Against ISIS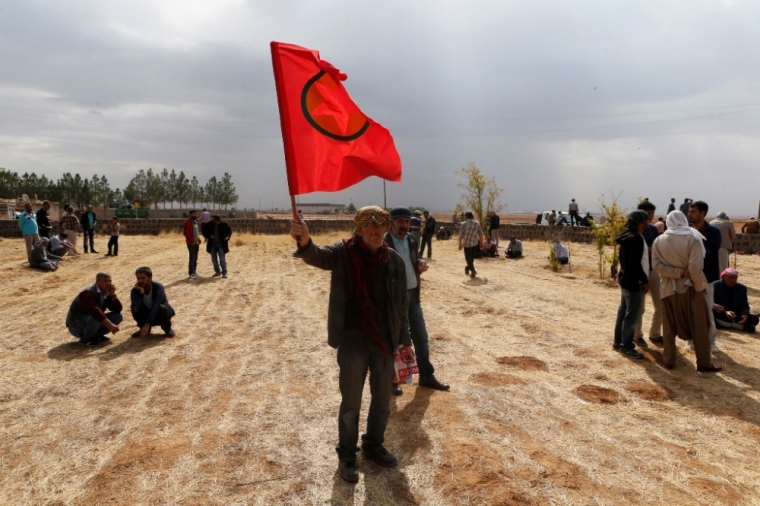 ERBIL, Iraq — Thousands of young female soldiers have taken up arms in recent months in the fight against Islamic State as the terror group attempts to expand across Syria and Iraq, killing and enslaving thousands of women and children in its path.
"Islamic State is planning to increase their territory as they did in Syria," 24-year-old Nasreen Kobani told The Christian Post. " ...They are fighting to be holy and qualify for Jannah (Islamic paradise), despite committing countless crimes against humanity. After they kill civilians, they mutilate their corpses, burn their bodies and cut out their eyes."
Many women from across the Arab world are standing up to defend their families, land and freedom. Today about 8,000 women from all over Syria, Iraq, Iran,Turkey and elsewhere have volunteered to join the YPJ, also known as the "Women's Protection Unit," which defends the Kurdish population of Syria and other innocent civilians, including Christians, from Islamic State.
"I believe in protecting our families and our cities from the extremists' brutality and dark ideas," one female soldier said. "They don't accept having women in leadership positions. They want us to cover ourselves and become housewives to attend to their needs only. They think we have no right to talk and control our lives," she added in this report.
The women fighters follow a tradition of Kurdish women warriors found in Northern Iraq, and some have operated and trained with the Kurdish Pashmerga forces since 1996, in opposition to Saddam Hussein's regime.
They've had many victories since the war began, including their tactical response in helping Christians who are a minority group in Iraq and have been targeted by repeated waves of extremists' attacks. Saint Matthews, one of the oldest monasteries on earth in the Nineveh Plains, survived — thanks to Kurdish fighters who were able to push back Islamic State fighters, as reported by CBS' "60 Minutes."
"The jihadists don't like fighting women, because if they're killed by a female, they think they won't go to heaven," one female soldier said to "PBS NewsHour."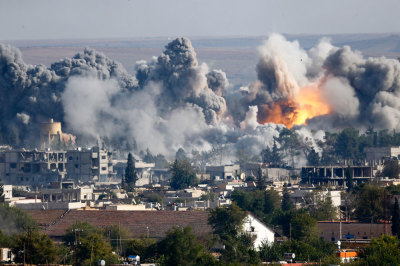 Other victories include the offensive in Kobani in Syria earlier this year where the Women's Protection Unit fought Islamic State militants in arm-to-arm combat, killing one of their generals and taking back control of the city from IS rule.
"As civilians began to flee, we took our positions and began facing them in close ranges and in street fights. ...They first sent in their rookie fighters, and after they took over half of the city the veterans came in ... we lost many brave soldiers in that battle. Soon after, an international coalition came in with airstrikes — just as we were out-gunned and surrounded by IS soldiers. They helped us to win and drive them out of the city," said Kobani.
Despite having gun shot wounds, many of the women soldiers began to burn Islamic State flags amid shouts of victory. "They wanted to take over our land, but we defeated them, we defended our city. We burned their flags and now our flags are waving everywhere," Kobani added.
Women soldiers on the front lines in Iraq and Syria are also changing and challenging cultural barriers, traditions and stereotypes of gender roles for women in the Arab world and beyond. Many women are so committed to the cause that they choose not to marry or have kids in a culture where women are defined by a man. They serve for free, sleep in the dirt, operate heavy weapons, fight alongside men, and kill IS militants — earning respect from all sides of society.
"Women soldiers are free and proud...free of all boundaries and cultural restrictions. Women are mostly under a man's power in this part of the world. However as soldiers we are equal, even in the field," said Kobani.
The U.S. military lifted its own ban on women in combat, which opened up hundreds of thousands of additional front-line jobs to them, according to a report by The New York Times. The groundbreaking decision overturns a 1994 Pentagon rule that restricted women from artillery, armor, infantry and other such combat roles. The Pentagon is allowing three years, until January 2016, to actually implement it.
Of the 28 members of Nato, just three nations — Britain,Turkey and Slovakia — still bar women from combat roles, according to the Daily Mail.
The internal armed conflict in Iraq has escalated since January 2014 and caused a humanitarian crisis, which is impacting millions of Iraqis and Syrians.
The UNHCR estimates that around 5.2 million people are now in urgent need of humanitarian and protection assistance due to ongoing violence and insecurity. Many of the victims are children. Millions of Arabs have been displaced, tortured, raped and killed, including minority communities such as the Yazidis, Christians and Turkomen in the north, and also Shiites and Sunni Muslims, as reported by CP.