Xiaomi Mi Note 2 Rumors: All-Metal Smartphone to be Unveiled in November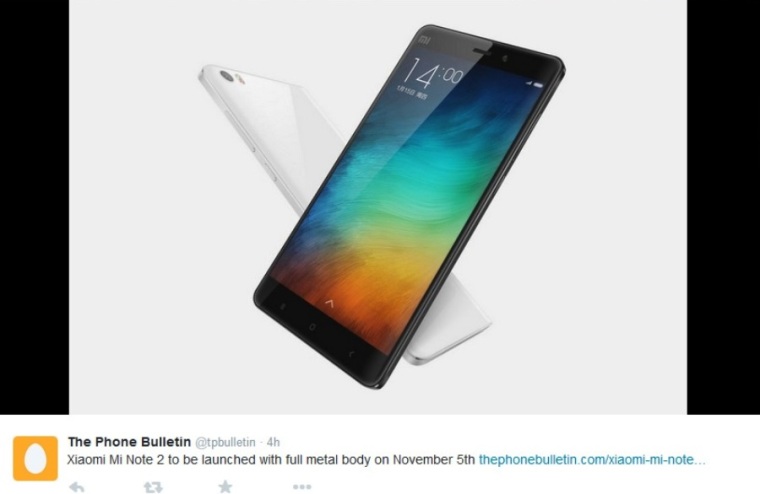 News has emerged the Xiaomi Mi Note 2 will be introduced next month and will feature an all-metal body when it hits the shelves.
While Xiaomi users are awaiting the release of the Chinese smartphone manufacturer's much-touted Mi 5 flagship, Xiaomi may have something else in the works after an image of an all-metal smartphone leaked online, purporting to be the high-end Xiaomi Mi Note 2.
Less than a year after the first Mi Note and Mi Note Pro were introduced, it appears Xiaomi may have more aces up its sleeves. According to rumors, the Mi Note 2 is expected to be officially introduced at a Xiaomi event on November 5, and will showcase an all-metal body, a first for the tech company.
The device will supposedly sport an upgraded design and come with a 5.7-inch Quad HD 1440 x 2560p touchscreen display over a Qualcomm Snapdragon 820 processor. Supported by 4GB of RAM and 32GB of in-house storage, the Xiaomi Mi Note 2 will run Android 6.0 Marshmallow when it ships.
Featuring a 16MP rear camera, an ultrasonic fingerprint scanner, and 4G LTE support, the Mi Note 2 is said to have high-end specs touted to outperform other devices currently in the market.
While it has still not been announced when the Xiaomi Mi Note 2 will hit retailer shelves, it is expected to be available in Q1 or Q2 2016 when the Qualcomm Snapdragon 820 processor begins to show up on smartphones next year.
On the other hand, the Mi Note 2 is also rumored to have an early release before the year ends, with a MediaTek Helio X20 chipset powering the device until Qualcomm outs its new processor in early 2016.
According to information released by the company, Xiaomi smartphones will begin trickling into the US by next year, beginning with the Mi Note 2.
Meanwhile, Xiaomi may make good on launching its highly awaited Mi 5, also said to contain the Qualcomm Snapdragon 820, together with the Mi Note 2 during its November 5 event.