17-Y-O ISIS Sex Slave Escapes, but Is Forced to Leave Her Newborn Baby Behind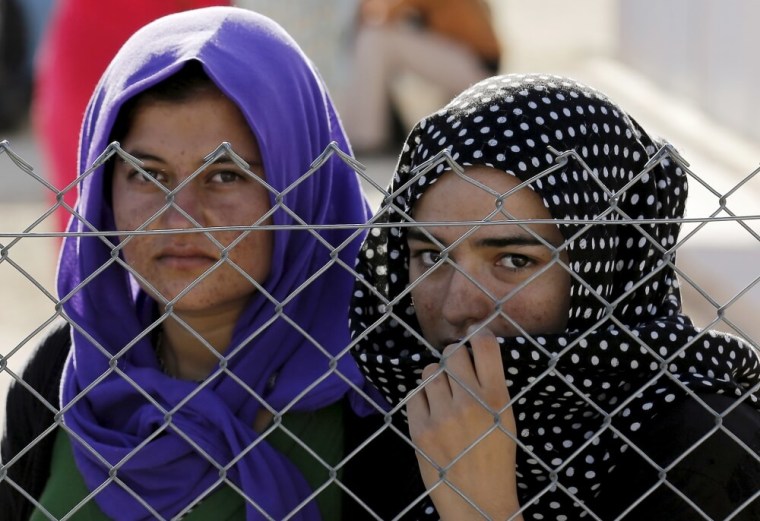 Seventeen-year-old Nihad Barakat Shamo Alawsi escaped the Islamic State with her life, but in the process left her newborn baby behind.
In 2014, Alawsi was captured by Islamic State militants after the terror group had taken over her town of Sinjar in northwest Iraq, abducting her and 27 of her family members, according to Daily Mail. Alwasi, 15 at the time, was held captive in Mosul where she was repeatedly beaten and raped by jihadists.
"They raped us, they killed our men, they took our babies away from us," she recently told AMAR Foundation, an organization that helps people in areas of conflict. "The worst thing was the torture in Mosul. We were beaten and raped continuously for two weeks."
After the death of a man who had taken her as a slave, Alawsi explained that she was then sold to a married man who had another Yazidi sex slave. The man beat and raped her, and within a month's time, she was pregnant.
The teen gave birth to a boy. Three months later, after the father of the newborn decided to marry Alawsi to his cousin, she was able to escape to freedom, after managing to make a phone call to her family.
But Alawsi was forced to leave her 3-month-old boy behind.
Presently, Alawsi lives in a camp with her parents and siblings in the northern Kurdistan region of Iraq, and she works with the AMAR Foundation to help raise awareness about what's happening to her countrymen — four of her siblings are still being held captive by IS.
The Islamic State still holds approximately 3,500 people captive in Iraq, the maority of which are Yazidi women and girls, according to the United Nations.
In late February, The Christian Post reported that a Yazidi girl held captive by IS was so desperate to stop members of the militant group from raping her that she set herself on fire, burning 80 percent of her body. This week, CP reported that IS militants have been raping 8 and 9-year-old girls, according to a report from the Quilliam Foundation.
Alawsi said she cannot truly live until her fellow Yazidis are freed from IS captivity. "It's not a life, we are not living a life until the rest of our people are released by Daesh [pejorative name for IS]," she told attendees of an event for AMAR. "I beg you to help my people. Save them from Daesh, and free especially the sex slaves, the young girls and children that have been taken."