Young Guns Preach 'My Calling is Greater Than My Booty Call' in Joseph Inspired Sermon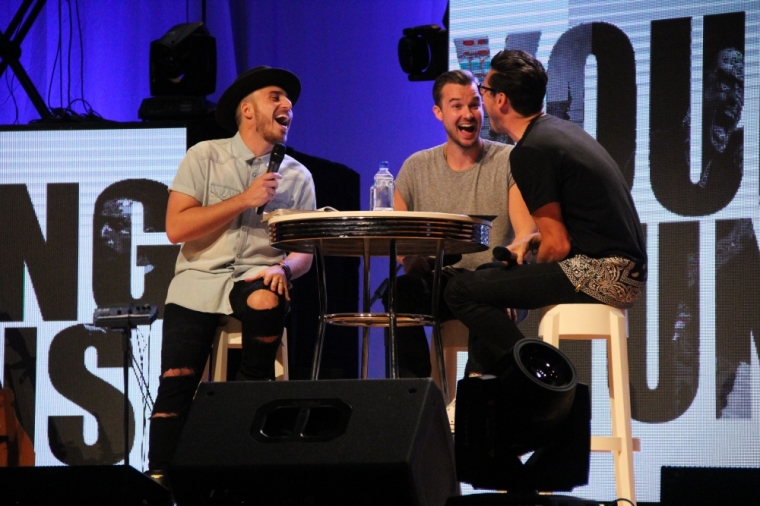 Young Guns, a segment that featured three pastors on stage at the same time preaching one sermon was one of the standout parts of this year's "Misfit the Conference," a youth and young adults event which took place in New York City last week.
Pastor Chris Durso of Christ Tabernacle Church in Queens, New York, was joined by Pastor Rick Wilkerson Jr. of Trinity Church in Miami, Florida and Pastor Chad Veach of City Church in Seattle, Washington for a collaborative sermon where they discussed the dreams of Joseph described in the book of Genesis.
The three pastors sat around a table and took turns addressing the crowd.
The story of Joseph was used to illustrate how God gives Christians dreams or visions that will come to pass but might not necessarily be appropriate to share with others who are in different places in their faith.
Joseph told his brothers about the dream where he ruled over them and caused division in his family; his brothers ended up selling him into slavery as a result. Even though the dream did eventually come to pass, Joseph should not have expected his brothers to embrace it at the time of his youth, according to the pastors.
Durso related it directly to believers who hear from the Lord, but allow other people to shoot down the word they may have received.
"You don't need to Instagram your dreams," he said to the crowd at Misfits. "Stop looking for other people to co-sign what God has already co-signed."
The three pastors joked around a bit while on stage and even poked fun at each other's sermons that were preached earlier in the conference.
Wilkerson Jr. continued with the theme, telling the crowd that "rejection is God's direction" as Joseph's missteps eventually led him to his destiny as a prominent ruler of Egypt and a sort of savior for his father and brothers who were battling a famine in the land of Canaan. He then shared an interesting bit that might have come from his own personal experience.
"The greater your platform becomes, the larger your rejection becomes," he said.
Pastor Veach discussed Joseph's temptation while in Potiphar's house and how the vision that God gave him when he was younger might have stopped him from sleeping with his master's wife.
"The only way to overcome temptation is to make it a God thing, a vision will keep you obedient," he said. "You can't overcome temptation in your strength, but you can in His. [Joseph said] my calling is greater than my booty call."
Wilkerson Jr. continued by talking about when he is most vulnerable to temptation, explaining that the hardest time to resist it is when he's tired or outside of community.
Durso followed that by pointing out that Christians are not created to trust themselves and that they should be surrounded with "family," not "friends," and explained the difference between the two.
"A friend will just agree with you, but a family member will call you out," said Durso while stating that a true Christian community should hold their fellow believers accountable.
Wilkerson Jr. closed out the sermon by discussing how God's favor, not His blessings, sustained Joseph as he headed closer to the vision the Lord gave him when he was younger and living with his brothers. He urged believers to acknowledge that they have God's favor.
"I need the favor of the Lord, not blessings," he proclaimed.
He also explained that when Joseph's dream finally came to pass, his rule over his family was meant for him to help them by feeding them during the famine and not for personal gain.
"A God dream was never about you, but about how you could bless others," concluded Wilkerson Jr.