YouVersion Bible App Shoots for 100 Million Installs by 5-Year Anniversary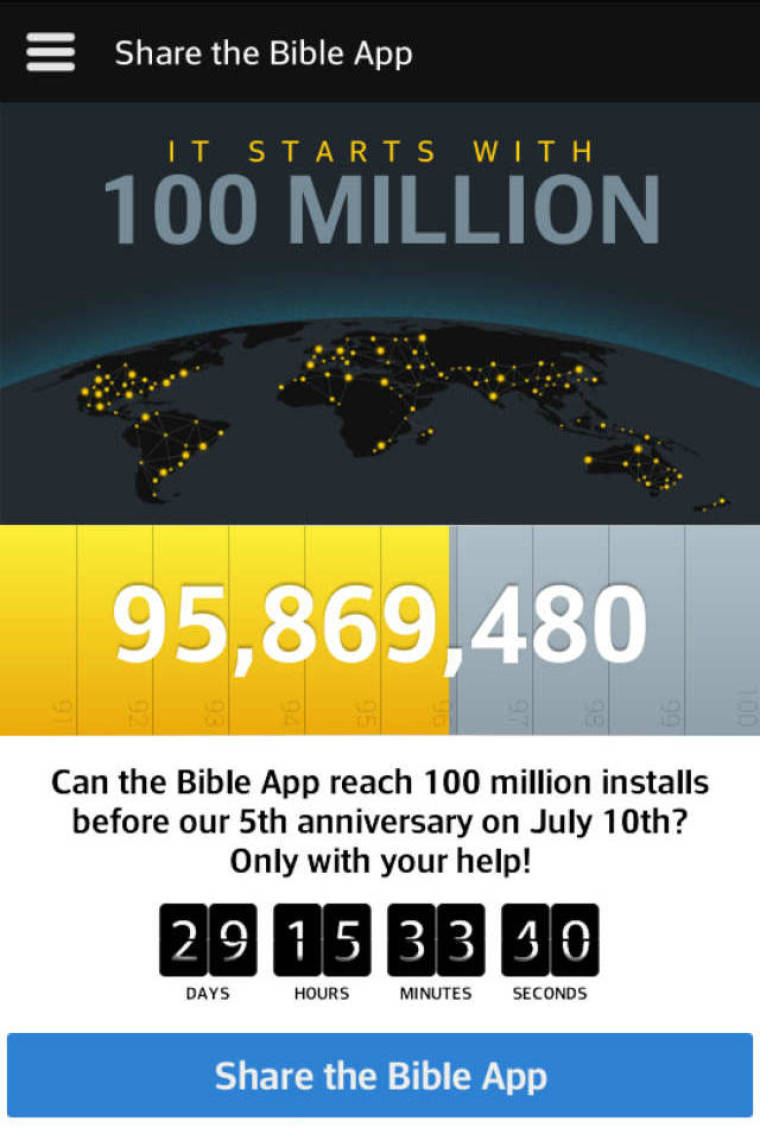 2 photos
(Photo: YouVersion)
YouVersion is asking the millions of people who already use its leading free Bible app to help it achieve 100 million downloads by July 10 to not only mark its five-year anniversary as a major player in the app market for smartphone and tablet users, but in hopes that achieving such a milestone might allow God to take the groundbreaking app even further.
In a live webcast on Tuesday, YouVersion announced its "100 Million Milestone" initiative and a new share screen just added to Android devices (with Apple devices next in line) that might take it across the 100 million installations threshold.
YouVersion.com, online since 2007, launched its Bible app in 2008, the same year Apple Inc. launched its App Store. The application was co-founded by LifeChurch.tv pastor and Innovation Leader Bobby Gruenewald and a team at the church's Edmond, Okla., campus. Both YouVersion.com and the Bible app allow users to engage Scripture (in more than 500 different translations and nearly 300 languages), watch related videos (such as clips from "The Bible" series recently aired on the History Channel), participate in reading groups, and more.
The Bible app, currently at more than 95,000,000 installs, has a solid 5-star review in the Google play store for Android devices based on feedback from more than 654,000 users, and 4.5 stars based on more than 622,000 ratings among users of the Apple version.
Gruenewald told The Christian Post Tuesday that "(al)though 100 million sounds like a big number, we know it's nowhere close to what's possible. In fact, we like to say it starts with 100 million. Our faith has expanded to believe that Bible engagement could be transformed not only for this generation, but generations to come."
As an incentive to help encourage shares among users of the Bible app, YouVersion is giving away free prizes every week until July 10, with two iPad winners announced near the end of Tuesday's webcast, which also featured YouVersion co-founder and LifeChurch.tv Digerati leader Terry Storch.
A campaign page launched for the "100 Million Milestone" initiative features an installs counter apparently updated in real time as well as a timer counting down the hours and days until July 10. The same counter and timer are featured on the Android version of the Bible app, as seen in the photo above. As of Tuesday, the Bible app looked well on its way to hitting its goal of 100 million installs from users around the world.
"We've learned God uses milestones like this to fuel even greater growth," reads a statement on the campaign website. "Let's make history together."
LifeChurch.tv, a multi-site Christian church led by founder and Senior Pastor Craig Groeschel, has gained a reputation for its innovative use of technology for evangelism as well as a passion for serving local communities.