Zachery Tims' Florida Megachurch to Announce New Pastor on New Year's Eve
New Destiny Christian Center, the congregation founded and led by the late Zachery Tims for 15 years, announced on Monday that a new senior pastor would be revealed on New Year's Eve. And that pastor will take on his or her new leadership duties beginning Jan. 1, 2012.
In a notice sent to supporters, NDCC, based in Apopka, Fla., revealed the service line-up for the holiday season, specifically highlighting that on Sunday, Jan. 1: "WE WILL HAVE OUR NEW YEAR'S Church Service ON SUNDAY, JANUARY 1, 2011 w/ our New Pastor."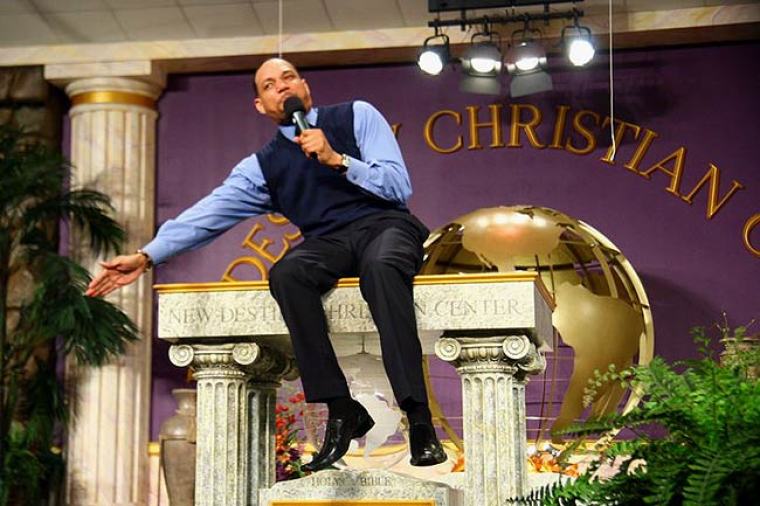 However, Minister Samuel Anderson, an executive administrator with NDCC, told The Christian Post that the board of bishops was still in the process of choosing a new pastor. It appears that the board is confident a candidate will be decided upon by the end of December.
Minister Anderson did not provide any further details, but has told CP previously that the primary requirement for NDCC's new lead pastor is that he or she has to be married. Some observers interpreted that basic requirement to mean that Tims' ex-wife, Riva Tims, was immediately disqualified from leading the church.
The couple started NDCC in a hotel ballroom in Orlando in 1996, which eventually grew to a membership of more than 7,500. The Tims, who have four children, divorced in 2009.
On Sept. 26, Riva Tims published a statement on her Facebook page in response to the many calls for her to return to NDCC.
"I have gotten an overwhelming response from my New Destiny Family to come home and/or at least minister to them. However, I have not been contacted by NDCC staff to return or to assist in the transition. I will continue to pray and cover NDCC, that the vision Zack and I birthed will continue! Thanks for all of your love and prayers," she wrote.
Tims was found dead on Aug. 12 in his room at the W Hotel in Times Square in New York City. He was reportedly in town for a speaking engagement. 
Tims' mother, Madeline Tims, filed an injunction against a handful of New York City agencies, including the medical examiner's office, to prohibit them from revealing to the public the cause and manner of death for the late pastor.
The motion, filed in early October, resulted in a temporary restraining order against the medical examiner's office until Justice Cynthia S. Kern could hear arguments from the plaintiff and the defendants, which she did on Nov. 23 in Manhattan Supreme Court.
Kern deferred making a decision on whether the medical examiner's office has the authority to publicly disclose the cause of death for individuals, as it had planned to do for Tims with a press release on Oct. 7. Until the justice makes a decision, the medical examiner's office has agreed to refrain from publicly disclosing Tims' cause of death.
It was not immediately clear when a decision would be made regarding Madeline Tims' case.
In the meantime, NDCC is turning members toward their new pastor, who will be revealed by year's end.
Zachery Tims Church to Announce New Pastor on New Year's Eve