Bethany Hamilton opposes new rules allowing male surfers to compete against women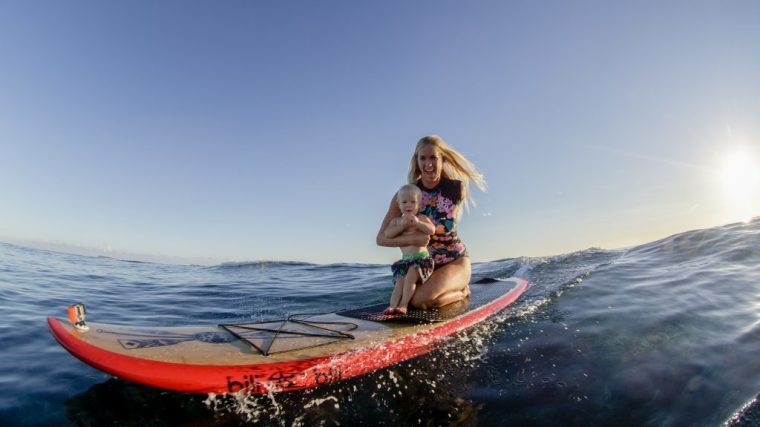 Christian surfer Bethany Hamilton, whose life story was depicted in the 2011 film "Soul Surfer," says she will no longer compete in or support the World Surf League now that the organization will allow biological men identifying as women to compete against female surfers. 
The 32-year-old who has competed in the sport for over 15 years stated on Instagram Sunday that she feels she must speak up on behalf of those who are too afraid to do so, lest they be ostracized for voicing their opinion. 
"How is this rule playing out in other sports, like swimming, running and MMA?" she asked.
"Have any of the current surfers in the World Surf League been asked what their thoughts and opinions are on this new rule before it was passed or announced? Should there be a conversation?" 
The surfer, who lost her left arm in a 2003 shark attack, asked whether deciding if someone is male or female is as "simple" as determining their hormone level and questioned what influences were behind the policy decision.
She asked how this change would improve the sport and how it would impact female athletes. 
"I personally think that the best solution would be to create a different division so that all can have a fair opportunity to showcase their passion and talent — and I think it's really hard to imagine what the future of women's surfing will be like in 15-20 years down the road if we move forward allowing this major change," she wrote.
"I personally won't be competing in or supporting the World Surf League if this rule remains."
The WSL told The Christian Post in an email statement that it adopted the International Surfing Association transgender participation policy "with aspirations for all of WSL's disciplines to be included in the Olympics."
"The eligibility of a Surfer to compete either in a men's or women's Event under this Rule shall be subject to compliance with the ISA Transgender Policy," the statement reads. 
The policy, first released in October 2022 by the ISA, requires male athletes who identify as female to maintain a testosterone level of fewer than 5 nanomoles per liter (nmol/L) continuously for the previous 12 months before they can compete with women. The WSL intends to immediately adopt the ISA's policy. 
"The WSL is working hard to balance equity and fairness and it's important for a policy to be in place," WSL Chief of Sport Jessi Miley-Dyer told The Inertia Friday. "We recognize that the policy may need to evolve over time as we get feedback and see new research in the field."
WSL's policy change resembles the International Olympic Committee's revised guidelines on trans-identified athletes' participation in the 2024 Summer Olympic Games in Paris, France.
As CP reported, the committee cited the Australian Football League as a model for determining trans athletes' eligibility for competing alongside female athletes. 
The AFL considers the trans-identified athlete's "height, weight, bench press and squat capabilities, 20 m sprint time, vertical jump, game-specific GPS data and 2 km run time" instead of solely relying on their testosterone level. 
A section of the document focused on fairness states that "sports organizations may at times need to issue eligibility criteria for sex-segregated competition to maintain a fair and proportionate distribution of competitive advantages among participants" as well as the "particular importance of advancing equality for women in sport and preserving fair and meaningful competition for elite women athletes, which may require criteria that limits eligibility in some cases."
Sharron Davies, a retired British Olympic swimmer, called the IOC policy a "disgrace" in a Dec. 19, 2022 tweet. The former athlete warned her fellow women not to "put up with it." 
"Female athletes u will loose your sports if you don't protest. They are kicking women's sport away, after years of disrespecting women in sport!" she warned. 
The debate over allowing biological men who identify as female to compete as women has become a heated debate across all sports, with many female athletes claiming that this puts them at a disadvantage.
As CP reported, in several anonymous statements to the sports website Outkick, female swimmers at the University of Pennsylvania expressed concerns about their teammate, Lia Thomas, who's a biological male, being able to compete on the women's team after competing for three years on the men's team. 
In 2021, Thomas broke female swimming records. During a 200-yard freestyle at the Zippy Invitational in Akron, Ohio, in December 2021, Thomas beat the second-place finisher by nearly seven seconds. 
The policy of the National Collegiate Athletic Association, one of the governing organizations that oversee collegiate sports in the United States, allows biological men to compete as women if they undergo one year of hormone suppression. 
"One year doesn't mean anything," one of the anonymous female athletes stated. "What about the years of puberty as a male, the male growth you went through as a man?"
University of Kentucky swimmer Riley Gaines, who tied with Thomas for fifth place in the 200-yard freestyle at the recent NCAA Women's Swimming Championship, claimed the NCAA forced her to hold a sixth-place trophy in a photoshoot so that Thomas could be photographed with the fifth-place trophy. 
"I was shocked, and I know all the other swimmers who were standing by and listening to this were also shocked," she told Fox News. "I was standing right next to Lia and [he] heard it all, and so it was baffling that this could happen."