Angler's 809-Pound Catch: Shark Fought for 8 Hours Before Being Reeled In (PHOTO)
Angler's 809-Pound Catch: Shark Fought for 8 Hours Before Being Reeled In (PHOTO)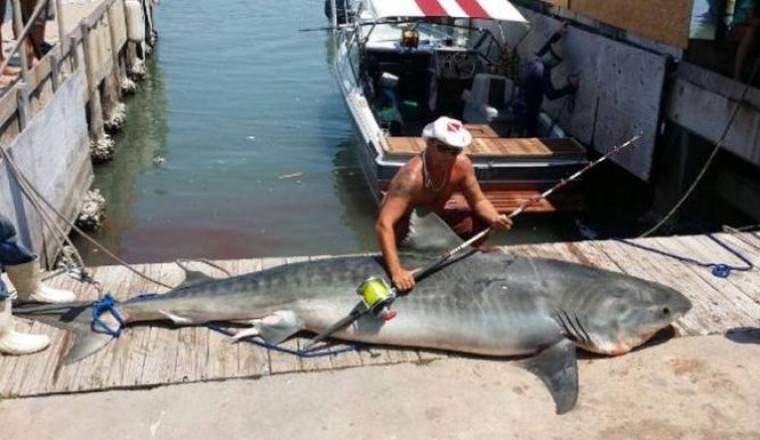 An angler's 809-pound shark catch surprised even him when he finally managed to reel it in after an 8-hour struggle. Ryan Spring fought with a tiger shark on the waters of Port Aransas, Texas from Saturday night into Sunday before the 12-foot predator finally gave in.
The angler's 809-pound shark catch first took the stingray bait on the line at about 8:30 Saturday night, according to reports. Spring was fishing with 10 friends and his father at the time but was surprised by how strong the fish was— before he saw it, he actually thought it was a smaller hammerhead at most.
"After five hours of fighting it, I finally saw it for the first time," he told The San Antonio Express-News. "I was surprised it was a tiger shark, I thought it was a hammerhead."
The 12-foot, 7-inch beast put up a fierce fight about five miles from the coast.
"It was like playing tug-of-war with a giant," Spring, who is a deck installer by trade, explained. "He's pulling us and the water is just slapping against the back of the boat."
It was "like a scene from the movie 'Jaws,'" he added.
The gigantic creature had to be hauled on board by Spring and his 11 companions on the fishing trip. After sharing a portion of the meat with friends and family, the fisherman decided to give the rest away to a local shelter for the homeless.
Although Spring's catch was amazing, it did not set the record for largest tiger shark ever caught. That honor belongs to Chap Cain, who caught a 1,192-pound tiger shark in 1992 – 809 lbs. is the second best record in the state, according to Texas Parks and Wildlife.