Bob Arum: Manny Pacquiao Readying for Last Fight of Career in April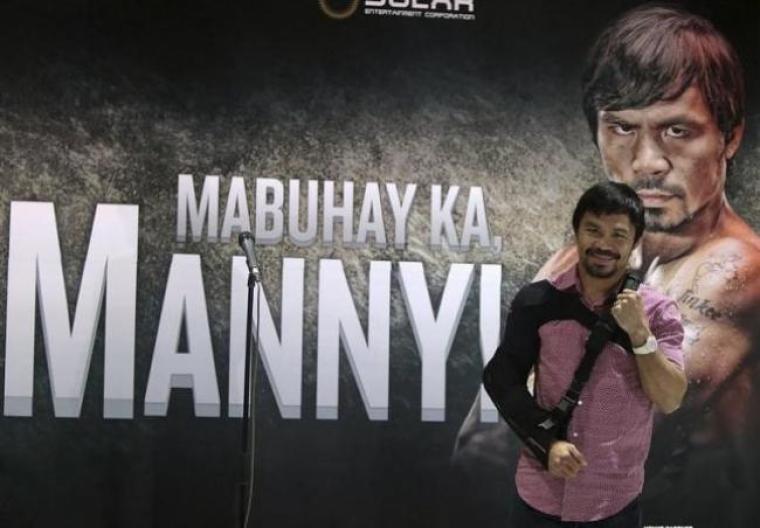 Manny Pacquiao is set to end his boxing career with a final fight that's scheduled for April next year, Bob Arum has said.
Top Rank promoter Bob Arum sat down with ESPN recently and disclosed that eight weight division world champion Manny Pacquiao is readying to close his storied career in the ring with a final fight that's been set for April 9.
Pacquiao, who will be hanging up his gloves after the fight in preparation for a life of politics in the Philippines where he is running for public office, has discussed his plans with Arum for his final appearance in the ring before he retires from boxing.
The Philippine fighter, who currently represents his Sarangani province in Congress, will be running for senator by the Philippines' mid-May elections and he has stated his intention to focus on politics from there on.
A shortlist of fighters has already been prepared for Pacquiao's final fight next year, including England's top welterweight contender Amir Khan, junior welterweight title holder Terence Crawford, American WBO welterweight champion Timothy Bradley, Jr., and one of his former opponents, Mexico's Juan Manuel Marquez.
After surgery to repair an injured right rotator cuff following his fight with Floyd Mayweather, Jr. whom he lost to earlier this May, Pacquiao is planning to start training by December to begin preparing for the last fight of his career.
The match is expected to take place in Las Vegas in a new arena MGM and AEG are currently building that's due to have its grand opening by April. Barring that, three other traditional venues where boxing matches are usually held, including the Thomas & Mack Center, the Mandalay Bay Events Center, and the MGM Grand Garden Arena will be placed under consideration.
Pacquiao, who began his career in 1995 in the Philippines, went on to become an international boxing sensation, winning ten world titles in different weight classes.