Boxing News 2016: Errol Spence Challenges Manny Pacquiao, Says Filipino Boxer 'Lacks Fundamentals'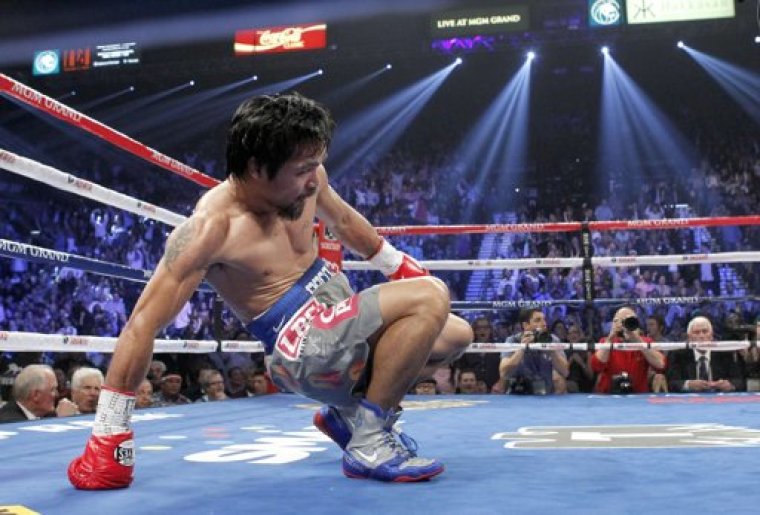 Fast-rising welterweight prospect Errol Spence was able to generate some buzz after his performance on Saturday night.
The 26-year old fighter stopped former WBO light welterweight champion Chris Algieri by fifth round knockout during their fight at the Barclay's Center in Brooklyn, New York.
With the win, Spence was able to keep an unblemished win-loss record of 20-0, with 17 victories by knockout. Many have praised Spence for his performance against Algieri, noting how he was able to do what Manny Pacquiao was unable to do.
Pacquiao and Algieri faced each other in 2014, with the Filipino boxing icon winning by unanimous decision.
The Pacquiao vs. Spence conversation was further magnified when promoter Lou DiBella boldly made a wager, "betting his own house" that Spence would be able to defeat "Pacman".
"Now the winner of Thurman and Porter, Kell Brook, are you gonna put him out of the mix with any of those guys? He might beat them all," DiBella said in a Boxingscene report. "Pacquiao? I'd bet my house right now he'd beat Pacquiao."
For his part, Spence does acknowledge the accomplishments and skills of Pacquiao. However, he also believes that the first and only eight-division world champion has flaws in which he can capitalize on.
"Manny Pacquiao is a hard puncher, he's quick – but he lacks fundamentals and that's what I'm big on... fundamentals," Spence said in another Boxingscene report.
Spence also went on to question Pacquiao's ring-cutting abilities, noting that the latter's inability to do so was highly evident in both the fight against Floyd Mayweather Jr. last May 2015, and the Algieri fight, as well.
"When Algieri got hurt (with Pacquiao), he was able to move and recover," he continued. "When I had Chris Algieri Hurt, I didn't allow him to do that."
Pacquiao announced his retirement from the sport of boxing after a 20-year career last April 9th, after defeating former WBO welterweight champion Timothy Bradley.