Chick-Fil-A Gives Baby Born in Texas Store Lifetime Supply of Free Food, Future Job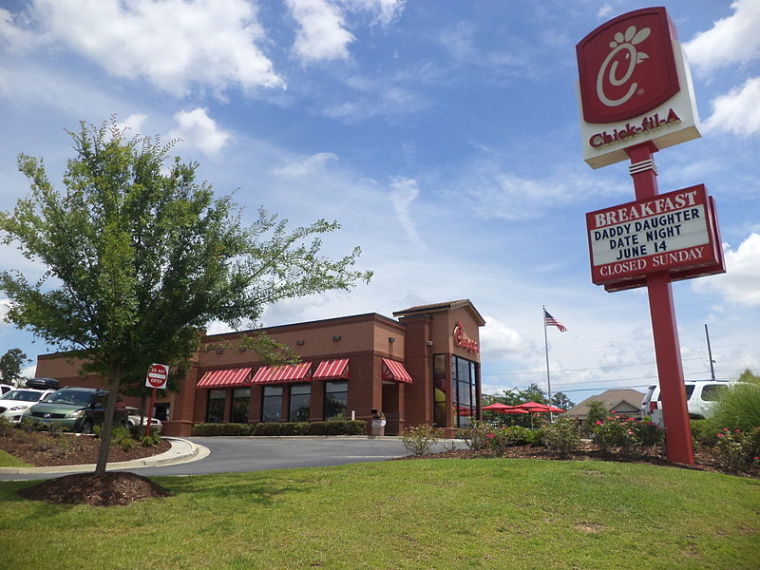 Gracelyn Mae Violet Griffin will never get hungry for the rest of her life and is guaranteed to have a job, as long as there is a Chick-Fil-A nearby.
The fast-food restaurant chain celebrated Baby Gracelyn's birth after her mother Falon Griffin gave birth to her at the toilet of its San Antonio, Texas store. Falon was supposed to be on her way to the University Hospital with her husband Robert to drop off their two older daughters with a family friend. But Falon had to use the restroom before they could leave.
According to Robert's Facebook post, the store was already closed at that time. However, they kept banging on the door and begged the staff to let them in so that she can use the toilet. When an employee let her in, he brought their kids into their friend's car then went inside to look for his wife. Then, the manager told him that his wife was still in the restroom, screaming.
Robert also said that he saw the baby's head crowning when he arrived at the store's restroom. He told his wife that they have to deliver their daughter right then and there.
"When she got to the shoulders, I realized the chord was wrapped around her neck twice. didn't want to alert my wife, so just told her try to relax for a minute and I was somehow able to unwrap the chord from the baby's neck. With two more strong pushes, and using my shirt for a towel, out came Gracelyn Mae Violet Griffin," Robert stated.
Robert said that he instructed Chick-Fil-A's store director Brenda Enriquez to call 911. After handing him some towels to keep the baby warm, Enriquez said that the first responders arrived less than 10 minutes after baby Gracelyn came out.
The mother and daughter were then brought to the hospital where they both recuperated. However, according to Robert, there is no better place to welcome their daughter except in the hospital other than Chick-Fil-A, since the company is known for its strict religious practices. "I thinks it's pretty ironic that a proud conservative, Christian family would have a baby in a Chick-Fil-A, and wrapped in a Trump 2020 T-shirt!" he also said.
KSAT reported that the fast food chain decided to give Baby Gracelyn free food from the store for life, and she can work with them if she wants to when she turns 14-years-old.