Cincinnati Bengals vs Buffalo Bills Live Stream: Watch Online NFL 2013 Football (Start Time, CBS TV Info)
Cincinnati Bengals vs Buffalo Bills takes place on Sunday in Week 6 of the NFL 2013 regular season in what could be a pivotal game in both teams' seasons. The Bills have home advantage today and will be hoping to use that to claim an important win. The game is scheduled to start at 1 p.m. ET and can be watched online through live stream (details below).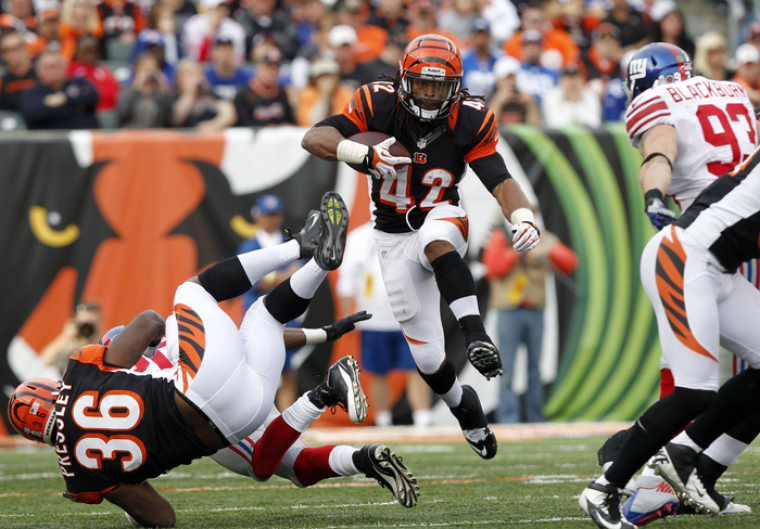 The Bengals arrive at the match up boasting a record of 3-2 following their impressive win over the New England Patriots last week. After an up and down start to the new season, which has included a 6-17 loss to Cleveland in Week 4, they looked like they had got themselves together last week and they managed to take down one of the season's favorites in the Patriots.
That result shows just how dangerous the Bengals can be, and that fact will not be lost on the Bills today.
Today's game is the first of two on the road match ups for the Bengals, and in Week 7 they will travel to Detroit in another tough game. If they can arrive back home for Week 8's game against the New York Jets having won both away games then they will be in a strong position to push on for a postseason berth.
Quarterback Andy Dalton is 114 of 175 for 1,215 yards and five touchdowns.
Meanwhile the Bills are in a similar inconsistent run of form as the Bengals, having gained a good win against Baltimore in Week 4, but then losing last week 24-37 against Cleveland. They come into this game with a record of 2-3 and will be hoping that they can get their defensive house in order having let through 57 points over the past two weeks.
The Bills are overly reliant on rush at the moment, ranking 3rd in the NFL in rush offense with 152.6 yards per game, where as they rank a lowly 28th in pass offense with just 196 yards per game.
The Bengals against the Bills will start at 1 p.m. ET and can be watched on TV on the CBS network or online through live stream by clicking here.
Cincinnati Bengals vs. Buffalo Bills highlights - 2010 3
Buffalo Bills vs Cincinnati Bengals - Buffalo scoring!