Coolpad Launches $50 Android Lollipop Rogue Smartphone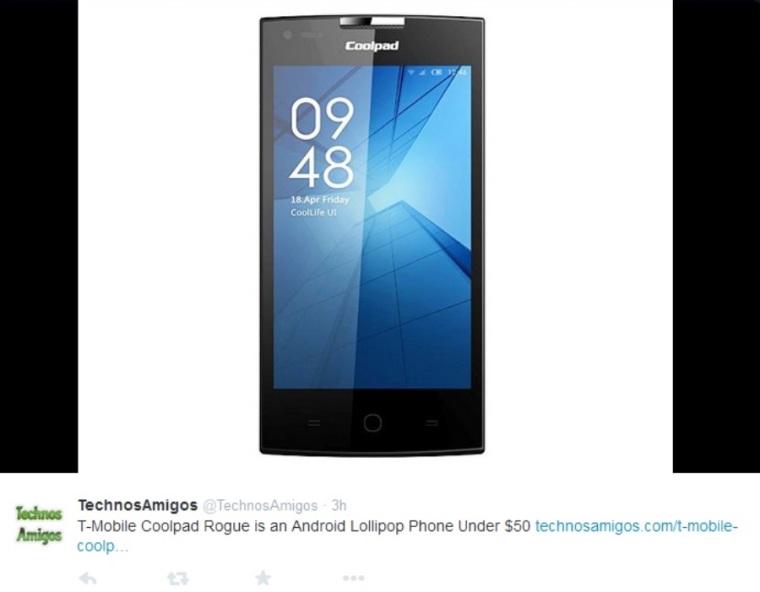 Chinese smartphone retailer Coolpad recently unveiled its budget $50 handset with Android Lollipop and LTE support.
A new $50 budget-friendly smartphone is due to hit the US market at the end of the month from Chinese tech vendor Coolpad, which recently announced its $50 phone called the Coolpad Rogue Wednesday.
Sporting a 4-inch 480 x 800 resolution WVGA display, the Rogue is powered by a dual-core 1.1 GHz Qualcomm Snapdragon chip supported by 1GB of RAM, and 4GB of onboard storage, expandable to 32GB via a microSD slot.
Carrying a 2MP main camera and a VGA front snapper, the budget smartphone runs on a customized Android 5.1 Lollipop version out of the box, and features LTE, Wi-Fi, 3G, GPS, and Bluetooth connectivity.
The Coolpad Rogue, which comes in a single black variant, will get its juice from a battery that offers up to 6 hours of talk time and a maximum of 200 hours standby time.
The phone is geared as an inexpensive option for first-time smartphone users or parents on a tight budget looking to purchase a first smartphone for their children that features an attractive design, up-to-date technology, and a user-friendly interface at an affordable price.
T-Mobile vice president Roger Brown announced the budget phone gives customers the opportunity to enjoy a low-priced handset option to fit their lifestyle.
Coolpad has inked a deal with US telecom carrier T-Mobile, which will start carrying the Rogue on both its online and in-store shelves for $49.99 starting September 30.
While the Rogue marks the first time T-Mobile will carry a Coolpad product, the Chinese vendor has launched two other smartphones in India this year under its own brand, Dazen. The new Dazen 1 and Dazen X7 are budget handsets running on Android 4.4 KitKat, featuring a dual-SIM slot and 4G LTE support.