Dallas Baby Giraffe Name Rights Sold for $50,000: See 6-Foot Newborn Calf Here
Dallas Baby Giraffe Name Rights Sold for $50,000: See 6-Foot Newborn Calf Here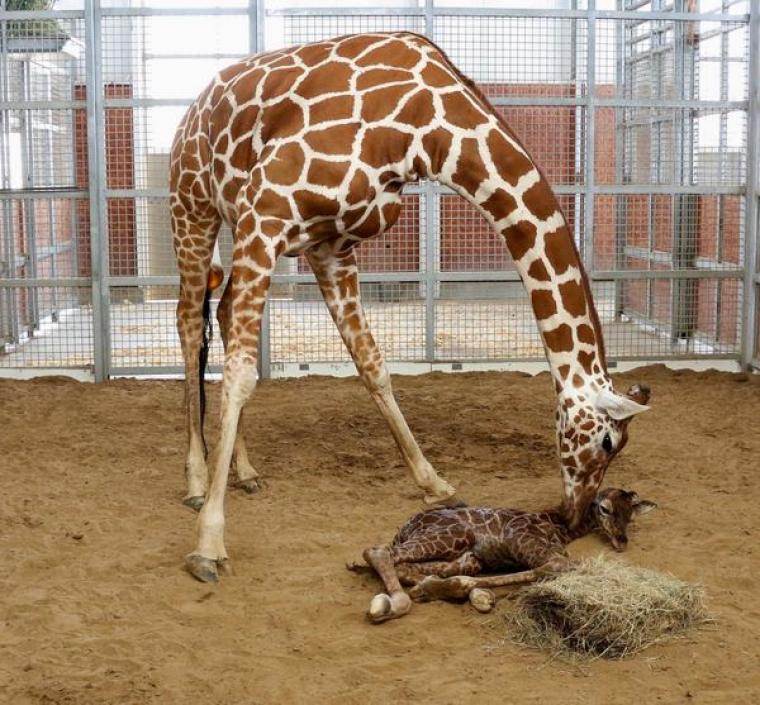 A Dallas baby giraffe's name rights were sold to the highest bidder Wednesday. The Dallas Zoo sold off the naming rights to their latest baby reticulated giraffe and ended up raising $50,000 for charity.
The Dallas baby giraffe's naming rights auction started at $25,000. The winner paid $50,000 for the right to name the newborn whatever they like, and all the money will go towards conservation efforts for giraffes in Africa. The winner of the "Zoo to Do" auction has not been announced, but the Dallas Zoo did say that the philanthropist was a zoo and animal supporter.
"WOW! Baby giraffe naming rights sold for $50,000! Every dime goes towards conservation. Thank you! #ZootoDo2014," the Dallas Zoo Twitter account posted.
The newborn male calf was welcomed by its mother and zoo staff on Sunday. When it was born, the new giraffe, known affectionately as "little guy," was already six feet tall and weighed 120 pounds.
"IT'S A BOY!: A really leggy boy! Meet our new 6-foot-tall baby giraffe born Sunday to first-time mom Chrystal. Mother and baby are doing great and will remain off-habitat for the next week or so," the zoo tweeted.
The birth of the new giraffe brings the herd up to a dozen with five females and seven males, USA Today reported.
Though the winner of the naming rights auction was not announced, the zoo did say that it was not a company. The name of the baby giraffe will be announced soon, they added.