Democratic National Convention 2012 Schedule: Live Stream of Bill Clinton's Speech (Watch Online Video)
Democratic National Convention 2012 Schedule: Live Stream of Bill Clinton's Speech (Watch Online Video)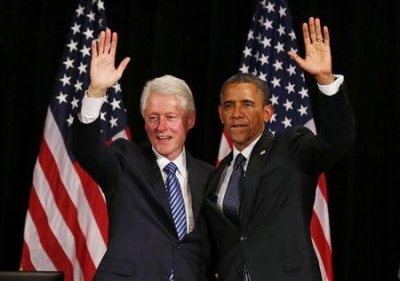 The DNC 2012 continues on Wednesday evening from Charlotte, North Carolina with a host of speakers set to take to the stage at the mid-way point in the convention. The scheduled list of speakers for the convention is listed below and the event can be watched online through live streaming (details below).
On Wednesday Rep. Barney Frank will take to the stage from 8 p.m. to drive forward the Democrat Party's offensive on the pro-gay agenda. The party has made homosexuality one of the most central themes of its convention and Frank will look to continue the party's official embrace of gay marriage.
John Hickenlooper will also be speaking. The Colorado governor is being touted as a potential presidential candidate for 2016 or beyond and this will be an important speech for Hickenlooper to make his mark at the top of the political food chain.
Potential future governor of California, Kamala Harris will also be taking to the stage. The new California attorney general is both African-American and Indian-American, which is being seen to help the party attract the full range of voting public.
Coming towards the end of the night's schedule will be Elizabeth Warren, who will speak prior to the main event tonight - former President Bill Clinton. Clinton is sure to attract a massive audience and he is as popular if not more so than when he was president himself. Many say that if Clinton can pull off a big show tonight it could act as a springboard for President Obama's re-election campaign. The Democrats will be hoping he can excite delegates and voters across the country in preparation for when President Obama takes to the stage on Thursday evening.
See the full performance schedule below and the list of Speakers:
Wednesday, September 5 (Time Warner Cable Arena)
DJ Cassidy, Jessica Sanchez, Branford Marsalis (national anthem)
Thursday, September 6 (Bank of America Stadium)
Foo Fighters, Mary J. Blige, Earth, Wind and Fire, James Taylor, Delta Rae, Inspire the Fire and Marc Anthony (national anthem)
FULL LIST OF SPEAKERS:
Congresswoman Tammy Baldwin of Wisconsin
Congressman Xavier Becerra of California
Newark Mayor Cory Booker
Congressman G.K. Butterfield of North Carolina
Former President Jimmy Carter (via video)
San Antonio Mayor Julian Castro, who will be the first Latino keynote speaker at a Democratic National Convention
Rhode Island Governor Lincoln Chafee
Congresswoman Judy Chu of California
Congressman Emanuel Cleaver of Missouri
Former President Bill Clinton
Congressman James Clyburn of South Carolina
Former Republican Governor of Florida Charlie Crist
Lieutenant Governor of North Carolina Walter Dalton
The Honorable Arne Duncan
Congresswoman Diana DeGette of Colorado
Former Assistant Secretary, U.S. Department of Veterans Affairs Tammy Duckworth
U.S. Senator Dick Durbin of Illinois
Congresswoman Donna Edwards of Maryland
Chicago Mayor Rahm Emanuel
Georgetown Law School Graduate Sandra Fluke
Charlotte Mayor Anthony Foxx
Congressman Barney Frank of Massachusetts
Former Charlotte Mayor Harvey Gantt
Former Michigan Governor Jennifer Granholm
Congressman Charlie Gonzalez of Texas
U.S. Senator Kay Hagan of North Carolina
California Attorney General Kamala D. Harris
Colorado Governor John Hickenlooper
Congressman Steny Hoyer of Maryland
Former Governor of North Carolina Jim Hunt
DCCC Chairman Congressman Steve Israel of New York
Montana State Superintendent of Public Instruction Denise Juneau
Former Virginia Governor Tim Kaine
Lieutenant General Claudia Kennedy (ret.)
Congressman John Larson of Connecticut
Congresswoman Barbara Lee of California
Congressman John Lewis of Georgia
CarMax co-founder and former CEO Austin Ligon
President of NARAL Pro-Choice America Nancy Keenan
Caroline Kennedy
U.S. Senator John Kerry of Massachusetts
Women's rights activist Lilly Ledbetter
Obama Campaign Co-Chair Eva Longoria
Connecticut Governor Dannel Malloy
Delaware Governor Jack Markell
Boston Mayor Tom Menino
The Honorable Karen Mills
U.S. Senator Patty Murray of Washington
Philadelphia Mayor Michael Nutter
U.S. Senator Barbara Mikulski of Maryland, together with the women of the U.S. Senate
Maryland Governor Martin O'Malley
Massachusetts Governor Deval Patrick
House Democratic Leader Nancy Pelosi
House Democratic Leader Nancy Pelosi will also lead a presentation of the women of the House
Congresswoman Rosa DeLauro of Connecticut
Congresswoman Carolyn Maloney of New York
Congresswoman Nydia Velazquez of New York
Congresswoman Gwen Moore of Wisconsin
Congresswoman Allyson Schwartz of Pennsylvania
Congresswoman Donna Edwards of Maryland
Candidate for the U.S. House of Representatives Joyce Beatty of Ohio
Candidate for the U.S. House of Representatives Tulsi Gabbard of Hawaii
California Assembly Speaker John A. Pérez
Congressman Jared Polis of Colorado
Congressman David Price of North Carolina
Illinois Governor Pat Quinn
Senate Majority Leader Harry Reid of Nevada
President of Planned Parenthood Action Fund Cecile Richards
Minneapolis Mayor R.T. Rybak
The Honorable Ken Salazar
Journalist Cristina Saralegui
U.S. Senator Charles Schumer of New York
Montana Governor Brian Schweitzer
The Honorable Kathleen Sebelius
Costco co-founder and former CEO Jim Sinegal
Former Ohio Governor Ted Strickland
Congressman Chris Van Hollen
Los Angeles Mayor, Democratic Convention Chair Antonio Villaraigosa
The Honorable Tom Vilsack
Senate candidate from Massachusetts Elizabeth Warren
DNC Chair Congresswoman Debbie Wasserman Schultz of Florida
Congressman Mel Watt of North Carolina
The Democratic National Convention 2012 can be watched online through live stream by clicking here.
Betty White for #DNC2012