Disney's 'Star vs the Forces of Evil' to Feature First Male Princess
It may have taken Disney years but the house of mouse has finally introduced its first male princess. She debuted on the latest episode of Disney XD's animated children's series "Star vs. The Forces of Evil."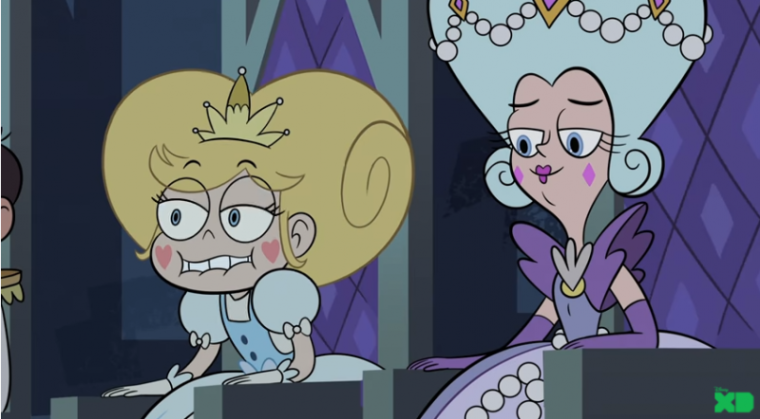 Disney is making bold statements through "Star vs. The Forces of Evil," as far as gender and sexuality is concerned. Earlier this year, in an episode titled "Just Friends," the company featured its first same-sex kiss. And more recently, Marco (voiced by Adam McArthur) assumed the identity of Princess Turdina to save the students of St. Olga's Reform School for Wayward Princesses from their headmistress, Miss Heinous.
Before Princess Turdina could reveal his secret to the students, the headmistress entered the picture, with a confession tape in hand. Miss Heinous threatened to divulge the princess' secret with the tape, but decided to pull Turdina's dress down instead, revealing a strand of chest hair.
"Turdina isn't a princess, she is a boy," the headmistress screamed.
"That doesn't prove anything. Princesses can be hairy," one of the princesses retorted. "Why does it matter if he's a boy? Nothing he said was wrong," another cried.
Much to Miss Henious' surprise, her act only made the princesses come together, shouting in chorus, "Yeah, we believe in you, Turdina," "Turdina is a state of mind," and, "He can be a princess if he wants to!"
"Star vs. The Forces of Evil" follows the adventures of a magical princess named Star who comes from a different dimension, and her friend Marco, whose family provided her a home on Earth. They try to survive high school while fighting off enemies from across the universe trying to steal her powerful magic wand.
The animated children's show was created by Daron Nefcy, who is only the second woman to serve as an executive producer on a Disney animated show.