'General Hospital' Spoilers, Plot News April 20 to 24: Nikolas Enters a New Passionate Situation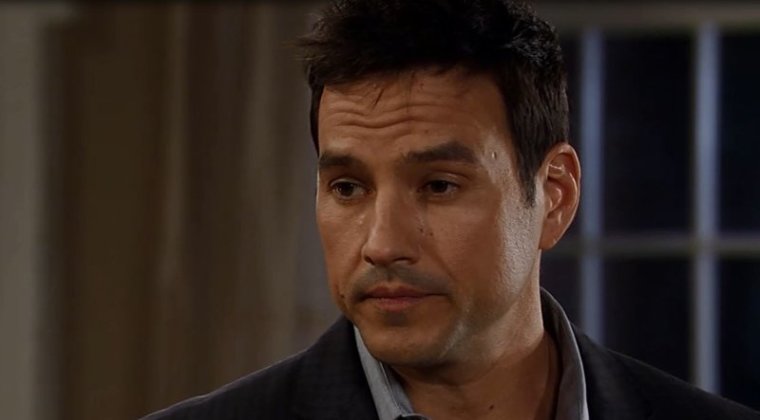 Last Friday on 'General Hospital', Franco returned to his suite at Metro Court, and Nina came in a moment later. Franco showed her his ELQ stocks. She accused him of thinking that she's the kidnapper, but he denied this.
After that she tells him about her visit from Aunt Liesl and how everyone has been accusing her. Franco assures her that he knows that she's innocent.
At the Quartermaine mansion, Ned tells Olivia that giving up his shares was the right thing to do because it was the only way to keep the truth from Alexis. Later, Alexis arrives and complains about Michael. Ned lies and says that he didn't give his stocks to Franco. He asks her to talk to Nikolas about where Helena's shares are. Once Alexis leaves, Olivia tells Ned that he can't give up his shares. He says that he has to—he has to follow his heart. They kiss, and Ned promises to be there for her and the baby.
Hayden shows up at Wyndemere and she gets intimate with Nikolas. Alexis arrives, so Nikolas rushes Hayden out the back and meets his cousin at the hallway. Alexis asks him about the missing 32 percent of ELQ shares. He says that he has no idea where it went. After Alexis leaves, Nikolas opens his vault and discovers that Jason's ring is gone.
Here are the 'General Hospital' spoilers for April 20 to 24:
April 20 (Monday): Nikolas panics after realizing Jason's ring is missing; Carly suspects that Ric is pulling a scam on Jake.
April 21 (Tuesday): Nikolas finds himself in another passionate situation; Carly's skepticism of Hayden grows.
April 22 (Wednesday): Spinelli enlists Sam's help; Sloane pressures Jake to find out what the Jeromes are plotting.
April 23 (Thursday): Sabrina makes a discovery about what happened to Michael; TJ arrives with some unsettling news for Shawn.
April 24 (Friday): Morgan and Kiki confess; Jake arrives home to an upset Hayden.
'General Hospital' airs from Mondays to Fridays at 1pm on ABC.