Gun Found in Frozen Meat: Grocery Store Employee Stunned by Firearm and Ammo Find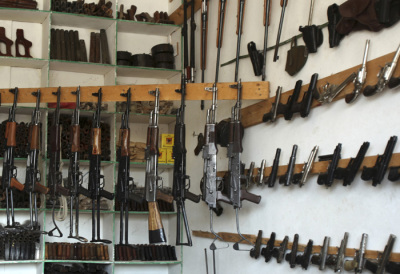 A gun has been found in a box of frozen meat, which had been shipped to a grocery store in Roswell, New Mexico, reports have stated.
The box of meat had been transported to an Albertson's grocery store in Roswell from a packing plant in Colorado.
An employee from the grocery store had received the shipment and was unwrapping the box when he discovered the gun among the meat.
In addition to the meat and gun, he also found seven rounds of ammunition alongside the gun, according to an NBC News report.
The meat reportedly was packaged more than a year ago on June 8, 2011.
The incident has been reported to authorities, but unfortunately their investigations have been hampered by the employee who found the gun. The Albertson's worker thought that it would be a good idea to clean the gun up when he found it, prior to handing it over to the police – meaning any clues or prints on the gun would have been washed off.
The Roswell Police Department has confirmed that it will now be difficult for them to trace where the gun could have come from.
It is believed that authorities will attempt to trace the firearm by entering the gun's serial number into the National Crime Information Center. That process could take weeks or months to produce any results.
No firearms have been reported missing in the area, and authorities have stated that if the gun had gone missing it would have been reported by now.