Hayward Implosion (VIDEO): 1,000 Celebrate Demolition of 12,500 Ton Warren Hill Building (PHOTO)
A Hayward Implosion on Saturday has seen the Warren Hill landmark destroyed in front of a huge crowd of more than 1,000 who had gathered to witness the demolition.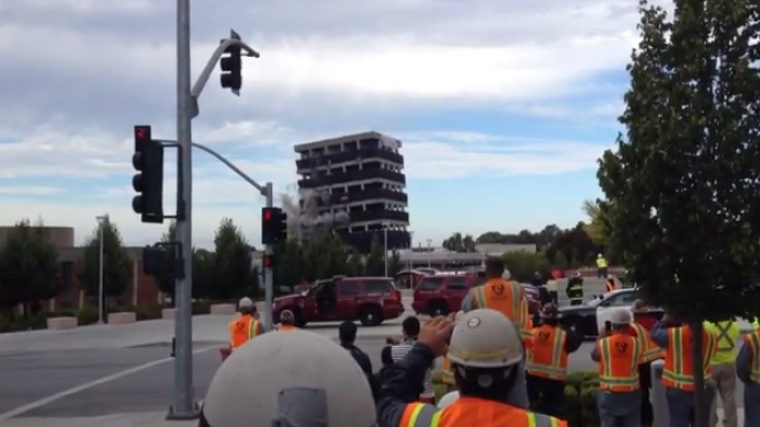 The 13-story building was located on the Cal State-East Bay campus, and was demolished through a series of small, controlled explosions. The implosion sent the building collapsing inside on itself as the large crowd cheered.
According to officials, geological survey scientists strategically placed more than 600 seismographs inside concrete circles within a mile radius of the implosion. They hoped to use the implosion to measure and simulate how the area could be affected should there be an earthquake in the region. The region is listed by officials as a place at high risk of an earthquake, with scientists saying there is a 63 percent chance of a major earthquake hitting the region within the next 30 years.
Rufus Catchings, a USGS scientist said following the implosion: "When that building dropped we should have gotten a nice, continuous signal for eight to 10 seconds."
Eye-witnesses have described that the building collapsed surprisingly quickly, within about five seconds.
Catchings said: "In the event of a large earthquake, often times it's not just one break in the ground, it's spread out over some distance. You'd kind of like to know where all these things are if you really want to understand the hazard."
The thousand-plus onlookers cheered as the building went down – the Warren Hill landmark at Cal-State had been labeled as an eye-sore in the area, and a majority were happy for it to be demolished.
On person, Brad Crooker, who knew the building well and had previously taken classes in the building, told reporters: "I'm glad it's going down. I thought it was ugly both from the inside and outside. There was no ventilation, and you couldn't open the windows. It was cold in the winter and hot in the summer."
Warren Hill had been declared the most unsafe building in the state of California in terms of vulnerability should a major earthquake hit.
Here is a video of the Warren Hill implosion in Hayward: