Henry Cavill Shaves Off 'Superman' Curl for 'Sand Castle' Soldier Role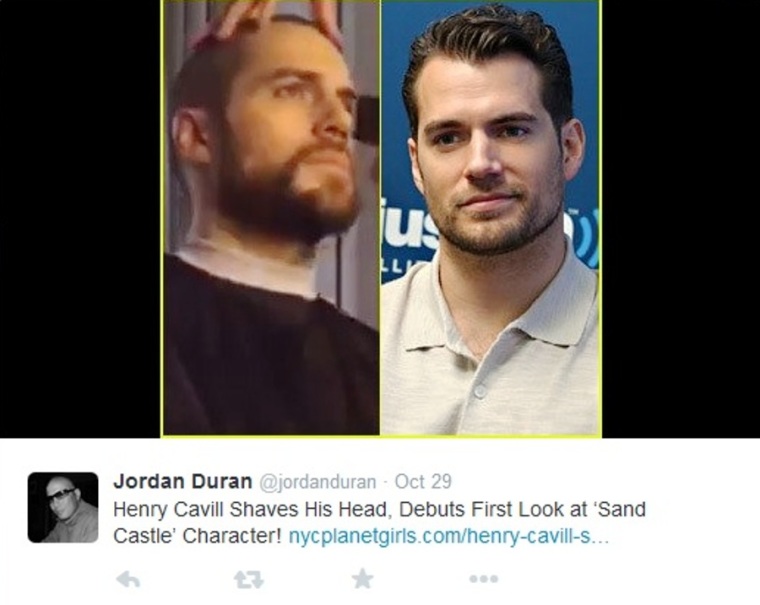 Henry Cavill is all set to shave off his "Superman" curl for a soldier role in an Iraqi war drama entitled, "Sand Castle."
British actor Henry Cavill who will play the title role in the upcoming DC Entertainment and Warner Bros. Pictures sequel, "Batman v Superman: Dawn of Justice" in March next year, will be debuting a new look for an Iraqi war film he recently signed up for, "Sand Castle."
Cavill posted a video of himself getting his hair shaved off for his role and posted it on his Instagram account to document the process for posterity. He captioned the video, "The road to Captain Syverso," after the character he will be playing in the movie.
With "Batman vs. Superman" just having wrapped up production, Cavill has moved on to his next project. He will be joining "X-Men: First Class" actor, Nicholas Hoult in the military thriller about a squad of American troops protecting a small Iraqi village set during the U.S. occupation of the Middle Eastern country.
"Sand Castle" is a movie based on real events that occurred between 2003 and 2011 when a US-led invasion led to the deployment of large numbers of American soldiers to overthrow Saddam Hussein's government.
"Sand Castle" was written by Chris Roessner, who spent more than two years deployed in Iraq as a machine gunner, participating in over 200 missions in Iraq's Sunni Triangle.
The movie will focus on Hoult's character, Matt Ocre, and his platoon leader as they muster their forces to protect Baqubah, a farming village in Iraq.
"Sand Castle" will be produced by "Source Code's" Mark Gordon, who has also produced other war films like, "Saving Private Ryan, and "The Messenger." British commercial director, Seb Edwards will be making his directorial debut for film.
Apart from Cavill and Hoult, Luke Evans will also be in the movie. The release date for "Sand Castle" is still pending announcement.