Jennifer Aniston, Brad Pitt Reunion Rumors Resurface Following 'Friends' Alum's Divorce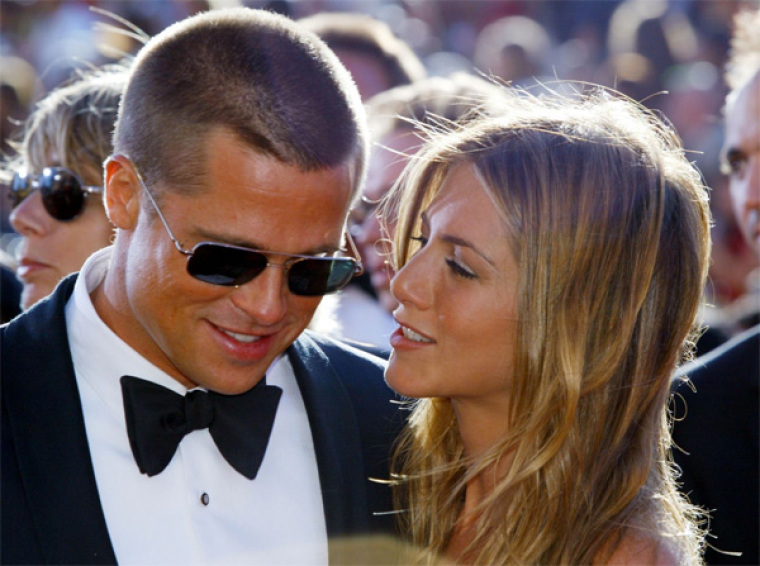 Fans are now in a tizzy for a potential Jennifer Aniston and Brad Pitt reunion.
Aniston and Pitt ended their marriage back in 2005 but that has not stopped fans from wishing they would be back together. Aniston and Justin Theroux recently announced their separation after a two-year marriage — leading fans to wonder if a reconciliation between the "Friends" alum and her ex might happen in the near future.
While Pitt has not yet spoken to Aniston about her split, a source told Us Weekly that he is "sad" to hear about what happened. "Brad is of course sad to hear the news about Jen's divorce. He only wishes the best for her," said the insider. "However, Brad hasn't reached out to Jen, and has no plans to do so at this point."
As previously reported, Theroux and Aniston announced that they split at the end of 2017. The pair, however, still celebrated the New Year together by having their annual vacation in Mexico. They were joined by several close friends, including actor Jason Bateman and his family.
The estranged couple continued to spend a bit of time apart in recent months, further fueling speculation of trouble in their relationship. Theroux was often seen in New York City away from their home in Los Angeles. He also traveled to Budapest to film the comedy "The Spy Who Dumped Me." Aniston, on the other hand, had a busy year after signing on for a new Apple TV series and filmed "Dumplin'" in Atlanta.
Aniston and Theroux first met in 2008 on the set of "Tropic Thunder." They started dating in 2011 and married in a secret ceremony in 2015. After her divorce from Pitt, Aniston dated Vince Vaughn and John Mayer.