Jessica Alba Blonde for Sin City, Actress Tapes Transformation (VIDEO)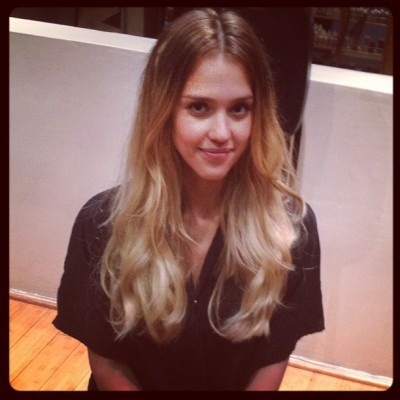 Jessica Alba has transformed her hair back to blonde for her return to "Sin City."
Produced and directed by Frank Miller, "Sin City" made its debut on the big screen in 2005. The crime thriller received positive critical response and topped the box office during its first weekend run, although it dropped steeply in the following weekends.
Much has changed since the actress first played the role of exotic dancer Nancy Callahan. The mother of two has, as of late, found herself on more playdates than acting roles, but all of that is about to change. The first step will require the actress to get a fresh new head of blonde locks- a transformation which the actress opted to post on Twitter.
"I'm documenting my hair to Sin City blonde!" the actress said in one tweet. "Bye bye brown hair."
The actress also uploaded a documentary of her exploits using Viddy, although those who adored her brown locks appeared to see it as a form of torture.
"Noooooooooo please I love you as a brunette!!!!" Brian Johnson said on the Viddy blog after viewing the video. "Noooiooooooo!!!"
The sequel to the original "Sin City" will focus on Callahan (Alba) while she grieves over the death of Detective John Hartigan. In the meantime, Dwight McCarthy is seeking revenge on Ava Lord, the woman who betrayed him.
"It's one of those hot nights, dry and windless. The kind that makes people do sweaty, secret things. Dwight's thinking of all the ways he's screwed up and what he'd give for one clear chance to wipe the slate clean, to dig his way out of the numb grey hell that is his life. And he'd give anything. Just to cut loose. Just to feel the fire. One more time," The True Movie Lover said of the film on IMDB.
Jessica Alba Blonde for Sin City, Actress Tapes Transformation