Julian Castro's Daughter DNC Show Stealer: 3-Year-Old Becomes Rising Star With Hair Flip (VIDEO)
Julian Castro's Daughter DNC Show Stealer: 3-Year-Old Becomes Rising Star With Hair Flip (VIDEO)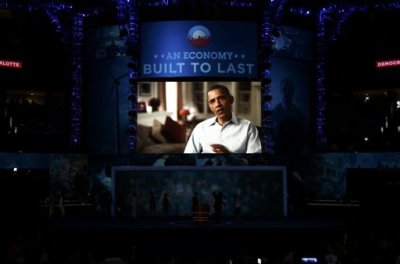 Julian Castro, the first keynote speaker at the Democratic National Convention, appeared to have the attention of everyone in the room on Tuesday night as delegates eagerly held on to his every word. Almost every delegate that is, except his three-year-old daughter Carina.
While Julian Castro, the first Hispanic to be a keynote speaker during a Democratic convention, was busy rallying his audience, his daughter appeared to have her eyes on something else.
Most camera breaks cut to different members of the audience getting teary-eyed over the touching picture that Castro painted of middle class struggles. But during one cut, as Castro spoke about his young daughter Carina and how he took her to her first day of school, the camera cut to Carina who appeared to have her mind on other things.
The 4-year-old, who just began pre-school according to Castro, was spotted rolling her head and flopping her head back and forth. Producers found the girl amusing and gave Carina the spotlight long enough for more than just a few viewers to take note of the little girl. Enough viewers in fact, to have many taking to the Internet to call Carina a show stealer.
"Que Dios te bendiga," Castro recalls telling his daughter as he left her behind at her first school. "May God bless you."
The phrase was borrowed from Castro's grandmother, whom Castro credited with helping to raise him. Castro said it was his mother, Rosie Castro, who inspired him to be a politician.
Both his mother and wife attended Tuesday night's speech, but neither made quite the impression that Carina did. Mayor of San Antonia, Castro is 37-years-old and considered to be a rising star in the political world. Now, his daughter may be considered a rising star as well.
Julian Castro's Daughter DNC Show Stealer: 3-Year-Old Becomes Rising Star With Hair Flip